Microsoft announced it last week that it will be providing better updates for OneDrive. The updates will focus on photos and images as well as videos. With that, it will also increase the OneDrive storage capacity to 30 GB so that users can store up to 12 thousand good quality photos and images. As of now, OneDrive offers 15 GB of free storage for new signups. Olders users of SkyDrive were already enjoying 25GB of free storage.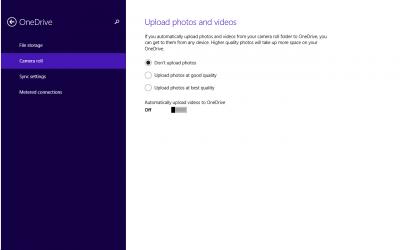 This will change once users opt to turn on the Camera Roll for SkyDrive folder. In that case, all users will get an increased SkyDrive of up to 30 GB. Microsoft did not specify if this 30 GB will be an additional storage over what the users already have or will be the maximum free storage.
To get the increased free storage, you will have to turn on Camera Roll feature on the web interface. This feature uploads all images, including screenshots, from your computer to the OneDrive storage and is available in the separate folder called Camera Roll. This new folder is placed inside Pictures folder that is a default Microsoft OneDrive folder.
For Windows 8.1, Microsoft OneDrive comes in-built. The Camera Roll feature can be turned on from either the web interface or from the PC Settings -> OneDrive. This works similar to the Screenshot feature in Dropbox. Whenever you take an image using camera on your phone or webcam on your PC, the image will be stored automatically in the Cameral Roll folder inside Pictures folder on Microsoft OneDrive. Besides the webcam, several other devices such as your DSLR camera etc will also be supported. Once hooked to PC or computer, the images will automatically be transferred to the Camera Roll folder probably with new subfolders named with date of import of images.
If you take a screenshot, it will also be stored inside a folder proposed by the name of Screenshots. Further, you can configure whether videos are stored to Camera Roll by configuring the OneDrive Settings on a Windows 8.1 computer. You can also set this up using the web interface if you are using Windows 7 instead of 8.1.
On its OneDrive blog, Microsoft says:
"OneDrive is the one place for all of your files, and we want OneDrive to be the best place for all of your photos, too. They're some of the most important and special types of files that we create. They help us document our lives and share precious memories with friends and family. And it is awesome that millions of people rely on OneDrive to be the one place that they use to back up and save their photos. But to date, we haven't really offered our users a great way to experience those photos. That changes today. With the update outlined below, you'll have new ways to get your photos in OneDrive. They'll also be more beautiful. They'll be quicker to find. And, more importantly, they'll be even easier to share."
The new update will also use Bing's tag feature so that you can tag your images with simple keywords like "beach", "pet", "sunset" and so on so that you can search the entire OneDrive using the tags. The update will be rolled out in phases to different users in coming days.