Since this morning, it appears Microsoft has removed Windows 10 v 1809 October 2018 Update from its download page. This is a worrying development as it was done at a moment's notice, without issuing any alert.
When you go to the Microsoft page that earlier allowed you to download Windows 10 October 2018 Update, it displays the 'Update Now' button for April 2018 Update.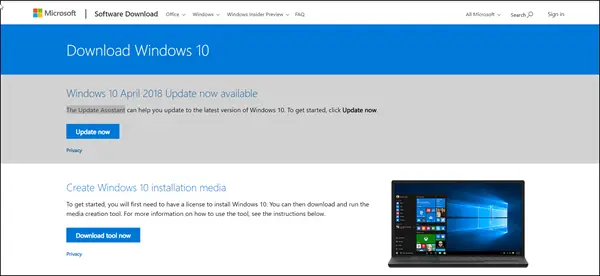 Windows 10 October 2018 Update pulled down
After many Windows users complained problems experienced with the latest major update – especially loss of their user files, Microsoft acknowledged the problem and quickly responded by preventing the update from being installed on some systems.
As we know, prior to the release of each version, there's a thorough testing of the software for commercial and practicality reasons. As such, it's unlikely to see or notice issues in the finished version.
However, soon after Microsoft announced the availability of its second and final major update this season, users started reported several wide-ranging issues. These included events like lost files, issues with CPU usage, and reduced battery life post-update.
In another instance, the problem with disappearing files was widely reported on multiple social media forums like, Reddit and Twitter, with one user complaining about Microsoft's community forum that he had lost up to 220GB of data after the update.
 "I have just updated my windows using the October update (10, version 1809) it deleted all my files of 23 years in the amount of 220gb," mentioned Robert.
He further added,
"This is unbelievable, I have been using Microsoft products since 1995 and nothing like that ever happened to me."
Many Windows users who have already downloaded and installed the newer version of Windows on their systems are worried.
Said Microsoft,
We have paused the rollout of the Windows 10 October 2018 Update (version 1809) for all users as we investigate isolated reports of users missing some files after updating. We will provide an update when we resume rolling out the Windows 10 October 2018 Update to customers.
For confirming the above news, visit microsoft.com. We hope that Microsoft will make it live again soon.