Microsoft is making a big push by going after Google's V8, the JavaScript engine that powers Google Chrome and several apps on the web. According to the software giant, it had requested to have its own engine, ChakraCore, run alongside Node.js.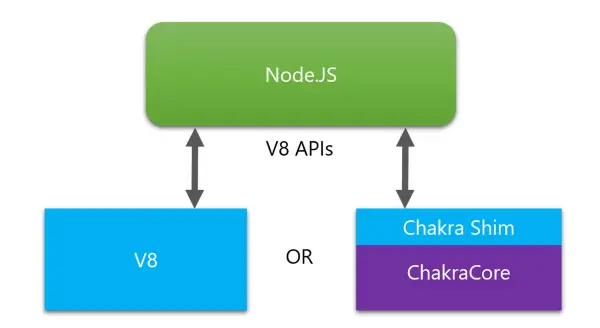 Ever since Node.js was created, it had always run on Google's V8 JavaScript engine. The combination was very successful as it managed to conquer the web in a short amount of time. Several real-time applications on the web are powered by Node.js+V8, and Microsoft wants a piece of the pie.
The software giant believes that is Node.js maintainers add support for ChakraCore; the combination would be faster than Node.js and V8 combined. These are strong words coming from Microsoft, and we'd love to see them it in action.
We should point out that Microsoft was one of the early supporters of Node, but the company broke off to create EdgeHTML along with a new JavaScript engine called Chakra to power its new web browser. The new browser was known as Spartan in the early days until it was official named, Edge.
This wouldn't be the first time Microsoft had shown interest in combining Node.js with ChakraCore. The company did so in a test back in May of 2015. The software giant came away confident that it would work just fine, so the push to have it added officially is the next big step.
In recent times, we've seen great strides from Microsoft to become closer to the open source community, but only time will tell if this move will work out in the long run.
Source: Microsoft.