Microsoft has announced that they are releasing a new Q&A website. It is a mixture of MSDN and TechNet forums. This means that Microsoft is planning to discontinue MSDN and TechNet forums. It is a part of the larger Microsoft Docs umbrella where Microsoft is planning to bring on all the documentation, code snippets, and Q&A together.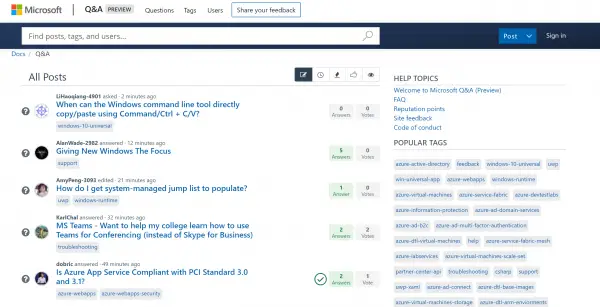 Microsoft Q&A website announced
This new Q&A website is just released in a preview and is not replacing MSDN and TechNet forums right now. It will happen gradually. We also expect Microsoft is using a unified backend so that all the data from three different forums sync together in the near future.
Some of the new features and experiences coming with Microsoft Q&A are as follows:
Tag-based experience allows you to ask questions across products and services in a single place
Follow posts, tags, or people to get updates
Unified Profile for single sign-on across docs.microsoft.com
Suggested answers as you type your question to quickly identify possible existing answers
Bookmark content for future reference
This will also bring together Microsoft Learn in the same platform for empowering technically oriented people to learn, write and troubleshoot their technical expertise.
Microsoft has bifurcated this migration into various phases. This will lead to the least issues for the users in using ad adapting to these services. Microsoft is expected to complete this migration by the mid of 2020.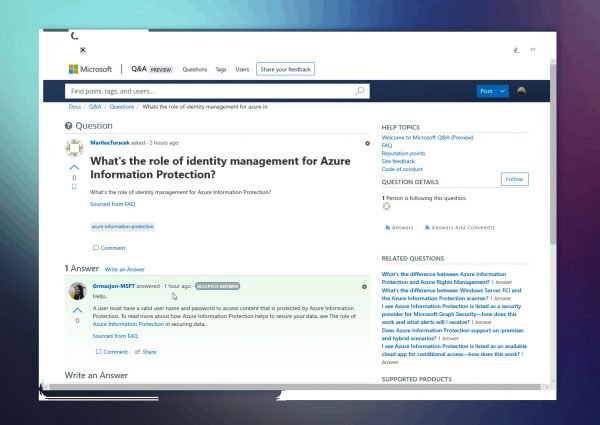 The current preview build of Microsoft Q&A includes the forums for the following services:
Azure Active Directory
Azure Active Directory Domain Services
Azure Active Directory B2C
Azure Information Protection
Azure DevTest Labs
Azure Lab Services
Azure Virtual Machines
Azure Service Fabric
Azure Web Apps
Universal Windows Platform
Partner Center API
If you wish to learn more about it, you can refer to the FAQ page here. And learn more about the Microsoft Q&A announcement here.