Did you purchase a new Surface Pro 2 this holiday season? Chances are the one you have on your hand has a faster processor than what was sold a few months ago. Microsoft has quietly upped the Surface Pro 2 processor from Intel-4200U running at 1.6-1.9 GHz clock speed to Intel-4300U spinning at 1.9-2.9 GHz.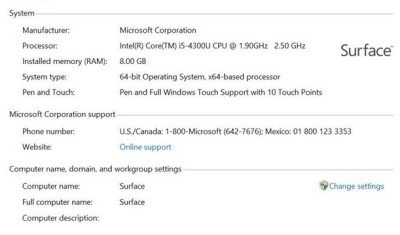 This isn't something very uncommon, though. OEMs keep tinkering with the specs from time to time, to either make the device better, or cut some cost. A Microsoft forum moderator explains,
Microsoft routinely makes small changes to internal components over the lifetime of a product, based on numerous factors including supply chain partnerships, availability, and value for our customers. With any change to hardware or software, we work to ensure that the product experience remains excellent.
Another interesting speculation to consider here is that Intel sells both Intel-4200U and Intel-4300U processor at the same price of $281. And given the fact that the latter proves to bring some significant performance boost, it does seem like that this could be why Microsoft swapped the processors. But bear in mind, that the predecessor isn't slouch at performance, either.
While the Intel i5-4200U boasts a shiny 6.6 performance ratings, the newer processor Intel-4300U finds itself a slight better spot at 6.9.
But does this powerful processor mean anything on battery usage? What we have learnt so far is that both the processors are exactly equal when it comes to battery consumption.
Overall, this is certainly a very welcoming change from Microsoft. Except for people who bought Surface Pro 2 at the time of launch, who are stuck with the old processor, not that it is any bad or anything.
Image credit: Microsoft forum.