Microsoft's game streaming service Beam that allowed users to stream their gameplay is now rebranded. Called the Mixer, Microsoft has added new features to its game streaming app that it had acquired a year ago. Microsoft's acquisition of Beam was soon followed by Amazon's acquisition of  Twitch.tv. The game streaming segment seems to be hot enough that Google themselves launched its standalone YouTube Gaming app.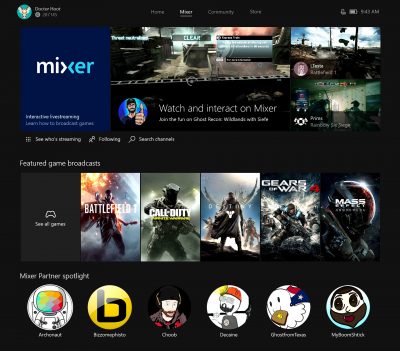 Beam is now Mixer
Microsoft will be replacing the Beam app with Mixer across all platforms including Android, iOS, Xbox and Windows 10. With the new Mixer app in place, Microsoft has ensured that up to four people can broadcast their live streams live and on the viewers end the screen will be earmarked into four regions one for each streaming channels.
Facebook has also launched a similar feature wherein one can add on a guest whilst live streaming. The Mixer mobile app will soon allow for game streaming. That being said the audience for streamed games is huge, for instance, the star YouTuber PewDiePie rose to fame after his game streams mixed with his humor garnered staggering traction. In fact, YouTube is partnering with gamers for the streamed gameplay.
The multiple streaming functionalities will first be available for the Xbox One and then it will be deployed to Windows Insiders followed by the Windows 10 users. Apparently, the mobile devices will be the last ones to receive the update. Twitch currently allows for multiple channel game feed streaming but to do so one needs to add a plugin and the experience is not yet seamless.
In order to ease the content discovery, Microsoft has also added a channel called Channel One and this shows what's happening across the Mixer. This channel would also serve as a billboard for Microsoft and game publishers to showcase the upcoming major game releases and live stream the events.