In the midst of the all-important Windows 10 launch, Microsoft quietly unveiled a totally unexpected product – Arrow Launcher for Android. As you would understand from the name, the product is an Android launcher and it still unfinished. With Microsoft all occupied with Windows 10, Arrow Launcher release almost went unnoticed. Also, what did not help either was the fact that the product was pushed via a private Google+ group, failing to catch much attention.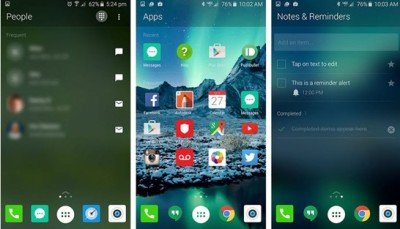 Arrow Android Launcher
Arrow Launcher is a decent looking app and comes with a user friendly interface to play with. The launcher has 3 main pages with the Home page having all the apps. At the top of the Home page you will find four of your most recently used apps, followed by a collection of frequently used apps.
Arrow uses algorithms to decide which apps, files, and contacts to show on the home screen. The more the app is used, the smart it gets, according to Microsoft. From what we have come to understand, the main screen contains around 20 suggested apps, all of which can be hidden. Unfortunately, they cannot be placed in folders or rearranged, making arrow a launcher with little customization.
The primary home screen does not support Android widgets, but that's no problem since users can add as many widgets they want to a separate screen designed for this. Bear in mind the widget screen is not shown to the user by default, so it could be a bit confusing for some.
Yahoo and Nokia have similar apps to Arrow available for Android. However, what Microsoft has provided brings small tweaks to the formula, which in turn makes it a better experience.
Swiping to the left of your Home page, on the second page you will find contacts listed under "People". You will also find a shortcut to the dialer for phone user.
Last, to the right of your Homepage, if we can call it the 3rd page, you will find notes and reminders. This section acts as a simple checklist than deletes list items when checked off. You can also set local reminders at certain times of day. This system does not connect to Bing or to Google.
UPDATE: Microsoft's Arrow Launcher for Android is available in the Google Play Store for everyone who are interested in download the app.