In a rare move, Microsoft has released 34 optional Windows Updates today. The updates which were rolled out today are not critical nor is a security patch, these updates are optional and is not installed automatically. The updates are quite surprising as it is the second batch of software patches coming in the month of April.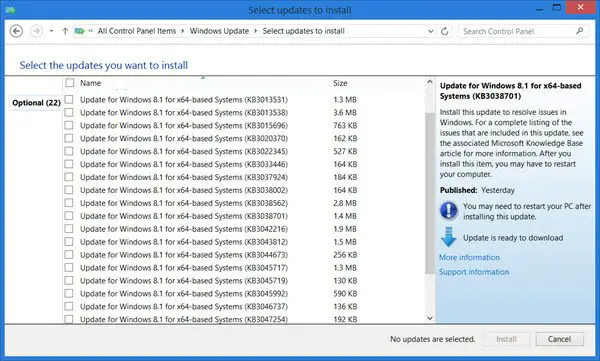 The Updates have been released for Windows 8.1, Windows RT 8.1, Windows 7 and Windows Server 2012 R2. While the linked KB Article does not explain what they are for, they do link to the specific KB article which gives some explanations about the Update.
Microsoft typically releases regular series of security updates and bug fixes on Patch Tuesday, which is scheduled on the second Tuesday of every month. Microsoft has already unleashed patches on 14th April accordingly. So it is difficult to decipher why the second update happened in the same month.
Should you install these optional Windows Updates?
You may not see all the 34 updates offered to you. Only those which apply to you may be offered. I was offered 22.
Broadly speaking, the updates are meant "to resolve issues in Windows". If you click on More information, you will get More information on what they are meant for. Some of them are meant for Wi-Fi connectivity issues, Missing Custom Media Size entries,  Automatic brightness problem, Print Capabilities and so on.
Microsoft KB894199 contains the update details with the respective knowledge base links. The support page didn't provide much explanation about the update, instead it has details on issues which were resolved.
You will have to go through them, see if they apply to you and then install them. For instance, KB3013531 will add support for copying .mkv files from a Windows-based computer to a Windows Phone 8.1 via Windows Explorer. If you choose to install all, it will not harm you in any way.
In order to grab these non-critical updates, head over to Windows Update screen on your computer, select them and install them manually.