A blog post from ScottGu revealed that Microsoft is now releasing Azure Premium Storage for general availability. Azure Premium Storage stores data durably on Solid State Drives (SSDs) providing high performance, low latency, disk storage with consistent performance guarantees. Microsoft primarily has two offerings – standard storage and premium storage on Azure, the latter is a well sophisticated storage offering by Microsoft.
Azure Premium Storage for Public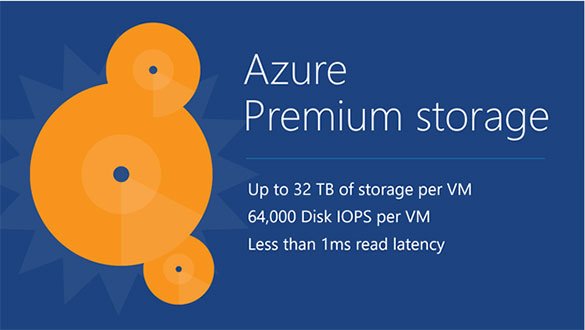 Azure Premium Storage is great for I/O-sensitive workloads and database workloads hosted in virtual machines. It also provides high degree of scalability as it provides an option to attach many premium storage disks to a single virtual machine. Azure Premium Storage supports up to 32TB of disk space per VM and drives more than 64,000 IOPS per VM at less than 1ms latency for read operations.
One can run the demanding applications like MySQL, Oracle Database, high-volume SQL Server, Dynamics AX, Dynamics CRM, Exchange Server, IBM DB2, MongoDB, Cassandra and SAP solutions making use of Azure Premium Storage.
Azure Premium Storage comes with great durability as it keeps three replicas of data present in the same region and also ensures that a write operation would not be committed until it has been durably replicated. One can also optionally backup disks by taking snapshots and copy those to a standard GRS storage account.
Azure Premium Storage is currently available in following regions: West US, East US 2, West Europe, East China, Southeast Asia and West Japan.
In order to get started with Premium Storage, head on to Microsoft Azure Management Portal and sign up for a new Premium Storage account. Choose the Premium Locally Redundant option in the available regions which we have listed above. Next step is to create a new VM and select "DS" series of VM sizes. The DS series of VMs are specially provisioned to work with Premium Storage. Get started by pointing the DS VM to your Premium Storage account.
Find out more about Azure Premium Storage at ScottGu's blog.