Microsoft Edge has come a long way and has been a lot more popular compared to its predecessors. As a matter of fact, it offers neck-to-neck features compared to Google's Chrome. Recently, Microsoft has announced the release of the Edge version 100 and a set of features that will be useful both in terms of security and usage.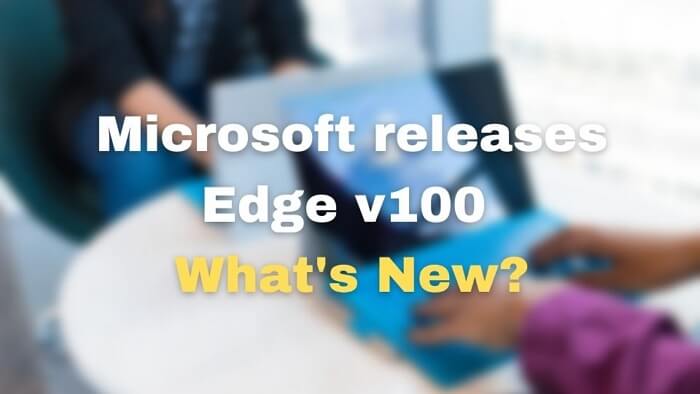 Microsoft releases Edge v100
The three-digit version number in the User-agent string. Microsoft says Edge 100 will, by default, send an HTTP version number in the User-Agent header, which could cause server-side scripts and analytic programs to misinterpret this as some information about their version of the user agent. A new policy feature allows admins to force Edge always to send the exact user agent version string, regardless of the current version.
Streamlining Microsoft 365 Application Protocol Activations. Auto-launch protocols for Office 365 applications have been deprecated. AutoLaunch protocols for SSO sign-in, OAuth-based sign-in, and federated sign-in protocols for Microsoft 365 applications have been enabled for trusted Microsoft cloud storage services, including OneDrive for Business, SharePoint Online, and Skype for Business Online.
Hardware-enforced Stack Protection. Microsoft has revealed that it is adding enhanced security features to its web-based Edge browser and Windows 10 operating system, including hardware-enforced stack protection, which protects against memory corruption vulnerabilities. Microsoft also is adding support for improved protection against indirect function calls.
Preview PDF files in Microsoft Outlook and File Explorer. With the introduction of the Document Preview feature for Windows 10, you can use Office Reading View to read PDF documents without loading or opening them. Office Reading View provides a lightweight, read-only preview of a PDF document while conserving bandwidth without using the PDF Reader.
Open Digitally Signed PDF files. Digital signatures play a vital role in validating the authenticity of a document and any changes made to it. The PDFSecureMode policy enables digital signature validation for PDF files directly from the browser without any additional software.
Microsoft is rolling out the changes, and for the Stable Channel, updates will roll out progressively over one or more days.
Policy Changes
There are also changes in policies that IT admin can apply the changes
Added Policies
AdsTransparencyEnabled – The ads transparency feature can be configured to be enabled or disabled.
DefaultWebHidGuardSetting – Control the use of the WebHID API. The WebHID API provides a way for web applications to access and interact with devices using the Human Interface Device (HID) protocol.
HideRestoreDialogEnabled – The dialog to restore pages will be hidden after a browser crash.
PDFSecureMode – The native PDF reader provides a secure mode and certificate-based digital signature
PromptOnMultipleMatchingCertificates – The user will be prompted to select a certificate from a list of multiple matching certificates.
WebHidAskForUrls – Allow the WebHID API on these sites
WebHidBlockedForUrls – Block the WebHID API on these sites
Deprecated policy
BackgroundTemplateListUpdatesEnabled – Enables background updates to the list of available templates for Collections and other features that use templates.
Obsoleted policy
AllowSyncXHRInPageDismissal – Allow pages to send synchronous XHR requests during page dismissal
Check out the changes here on microsoft.com.