These days, nearly all major companies across the globe have allowed their employees to work remotely from their homes. Although tech companies such as Microsoft are making their premium enterprise offerings accessible for free and making your remote work experience easier, working from home poses certain challenges that individuals need to overcome. Some of these challenges may sound trivial, however, they leave a huge impact on the productivity of individuals.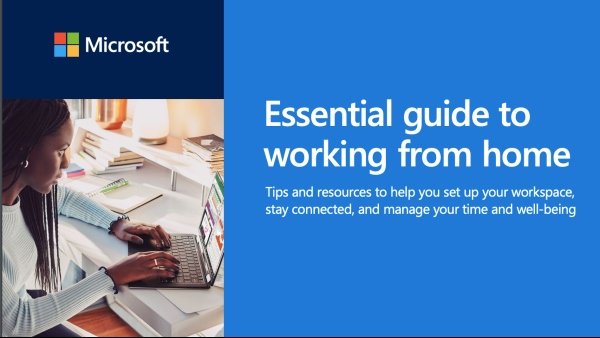 Download Essential guide to working from home
Microsoft has released a new e-book titled Essential guide to working from home, which aims to help users stay productive and organized during these challenging times:
"While working from home sometimes involves adjustments if you're used to working in a traditional office environment, there are many ways to set yourself up for success wherever you choose to do your job."
Table of contents
The flexible workplace
Set up your workspace
How to stay focused
Flexible working.
The Microsoft e-book, which is available to download for free, provides readers with tips on how to set up a secure and productive workspace, fix common Wi-Fi and printer issues, ways to keep the kids entertained, among others.
1. The flexible workplace
Although working from home and office has one thing which is common: Your actual work. However, the workplace matters a lot. It plays an important role in ensuring your productivity and ability to stay organized. The e-book focuses on the differences between working from home and working from the office. Meanwhile, here are some tips to ensure productivity while working from home.
2. Set up your workspace
Setting up a physical workspace that is comfortable, secure, and where you can work without any distraction is a creative and time-consuming process. Breaking habits is often difficult, especially since working from office has you in your comfort zone with regards to your workplace.
Unless and until you get yourself in a similar environment, focusing on your work tasks may be a little difficult for you. That's quite a challenge when it comes to working from your home. The e-book provides readers with tips on increasing the desk space, personalizing your workplace, among other things.
3. How to stay focused
Furthermore, the e-book provides users with tips to stay balanced and active. Working from home means a lot of alone time. However, you can use the situation to your advantage.
You can always start by creating a routine or schedule and focus on your work when there's no possibility of distraction. The e-book also recommends remote workers to go for a walk. However, it's better to stay indoors and learn some new skills or activities to keep your mind occupied.
4. Flexible working
While setting up your remote workspace, ensure to use remote communication apps to record your virtual meetings, share your screen, start group chats, and ensure that you are audible and visible. Here are some of the free Windows software to help you work from home with your team.
You can download it here from Microsoft.
Read next: Digital Parenting Tips and Challenges to be overcome when working from home.