When there is some sort of disaster or any other event of misfortune what do you do first? I bet, you first pray to God and request him to get you out of the trouble and if that doesn't work, you try getting help from someone else. Microsoft has just made that process simple by announcing a mobile app – HelpBridge.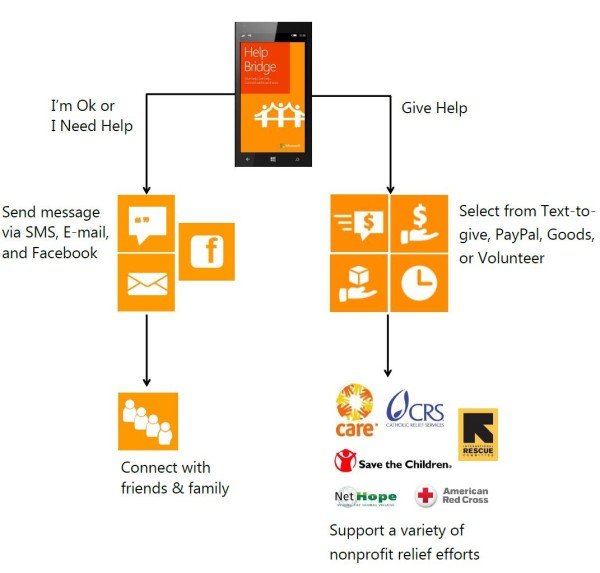 The joint venture of Microsoft, FEMA and the American Red Cross had led to the release of free mobile app, designed to provide people in need resources, financial help and if required, direct assistance. If it's you who get in trouble, you can notify your loved ones by sending them a message or an email. The app has support for this facility. Moreover, it even lets you include your GPS coordinates so that message recipients know where you are.
They can then inform a rescue team or disaster relief organizations and get their assistance immediately. Also, you can do the following with the help of the app.
Donate – HelpBridge allows you to make charitable donations directly to relief agencies that support disasters – about 10 agencies such as Aidmatrix and other relief agencies are pre-programmed into the app. The app also pulls live data on relevant goods needed for those in disaster situations so you can donate appropriate items.
Volunteer – If you would personally like to get involve and support relief efforts with your time, HelpBridge provides an opportunity for doing so. You can have quick access to a list of real-time volunteering opportunities with relief agencies.
In short, HelpBridge enables you to:
Create and manage your emergency contact lists.
Communicate quickly and easily via e-mail, SMS, and Facebook with those you care about most in times of disaster.
Donate money or requested goods to the top organizations engaged in disaster relief work.
Discover volunteer opportunities for relevant disaster relief efforts.
Share your location with friends and family.
Download HelpBridge: Windows Phones | Android | iOS.