As the demand for remote, enterprise communication services continues to increase, Microsoft has announced a series of new changes and additions for Outlook for Business to make the work-from-home experience worthwhile. These features will help users quickly and easily discover relevant emails and files they need for a meeting.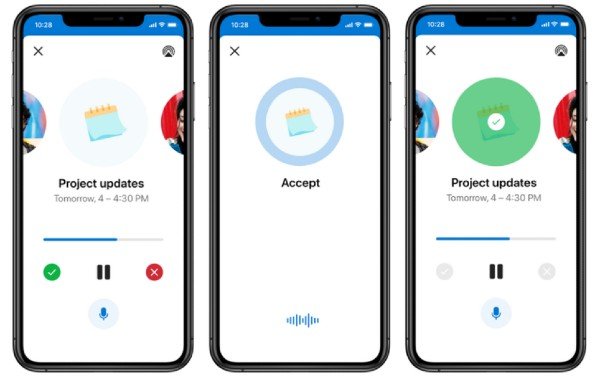 Microsoft releases new Business-centric features in Outlook
Microsoft wants you to play Play your emails in Outlook for Android. This way, you can listen and respond to your email thanks to Cortana, which will also keep you updated about your calendar tasks and events.
Outlook also provides users with Meeting Insights. This way, Outlook users can find everything relevant to their meetings including files, emails, calendar events in one place. It provides users with a glimpse of meeting details, messages, attendee lists, among other things.
Thanks to deeper integration between Outlook and Microsoft Teams, users are only a tap/click away from joining online meetings. Folks at Microsoft have introduced a one-tap one-click tap into Outlook to quickly join meetings. Not just Teams but this feature also works with video communication services like Zoom and Webex.
Microsoft is also making it easier to create online meetings. Given the current nature of work and the on-going work-from-home lifestyle, Microsoft now treats all meetings as online-only. Moving on, Outlook users can configure online meetings as the default option in Outlook for web and mobile apps. However, you can continue to book a physical meeting room.
Time management has become a big hurdle nowadays, especially since nearly all companies have transitioned to work-from-home arrangements. Microsoft has been working towards making it easier to keep track of Calendar events. In his recent blog post, Gideon Bibliowicz, Director of Product Marketing, Outlook and Exchange wrote:
"AI in Outlook is a key capability to help you do things faster and easier. One of those key capabilities is suggested replies, which you can use in Outlook mobile and web. Soon in Outlook mobile, you will see suggestions to Send Availability or Schedule Meeting when someone wants to meet with you."
In related news, Outlook for Web now also provides its users with an option to connect their personal Google Calendar and Outlook Calendar events to their work account. Microsoft has been working on these modern, productivity features for quite some time now.