Microsoft released second Windows 10 Insider Preview build this week for PC and mobile. This is – Build 14367 for PC and Mobile. The second build in a week was released as the Bug Bash is on.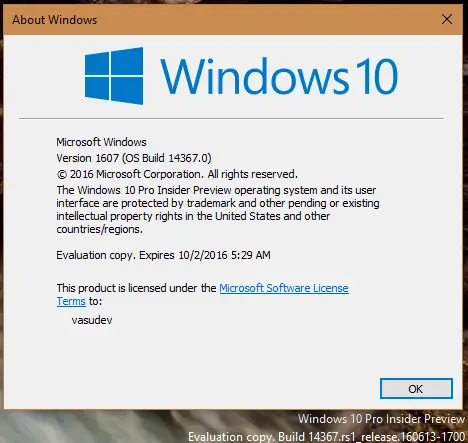 What's new in Windows 10 Insider Preview build 14367:
A new tool for Clean install of Windows: Based on user's feedback, Microsoft has provided a new tool that enables an easy and simple way to start fresh with a clean installation of Windows. You can check more details and get the tool from here.
Keyboard shortcut for Feedback Hub: New keyboard shortcut Windows key + F opens Feedback Hub and attaches a screenshot of your PC (one can review and remove this before submitting). Earlier shortcut of Windows Key + SHIFT + ? will stop working. On Mobile, one can use VOL Down + Power to launch Feedback Hub.
Handwriting Recognition Language support: Now 23 new languages have been included for handwriting recognition as a tech preview.
Improvements and Fixes in Build 14367 for PC:
Cross-device notifications from your phone to your PC via Cortana are now more reliable and faster. Though there's an issue as of now, this will only work if your phone's screen is turned on. Will be fixed soon.
Issues of emoji in cross-device notifications and apps like Notepad appearing as boxes is fixed.
Project Centennial – Desktop App Converter preview issue is fixed.
The issue of Win + A keyboard shortcut to launch Action Center not working if Action Center icon is turned off is fixed.
The issue of Cortana not showing relevant system settings results for some terms like a typo or connect is fixed.
The issue of text in network flyout changing color from white to black when entering credentials when the PC is using the dark theme is fixed.
Fixed an issue where PowerShell shortcuts pinned to taskbar could only create one functional window.
The issue of newly opened notes in Sticky Notes flashing white & black is fixed.
New shortcut to turn on/off Private Mode using Japanese Input Method.
Updated Update & Security, Windows Update and Recovery icons in Settings
The issue of Cortana launching on Hey Cortana behind Windows Ink Workspace is fixed.
The issue of Explorer crashing when "Open Command Window here" is chosen from Context menu is fixed.
Improvements and Fixes in Build 14367 for Mobile:
One can now deploy an app via Visual Studio 2015 update 2
The issue of Quick Actions in Settings app being flipped is fixed.
The issue of existing reminders failing to display in Cortana's reminder section is fixed.
Fixed an issue where the text selection grippers would appear very tiny in certain places on high DPI phones.
Reduced battery usage when Microsoft Edge is running in the background.
Font size of dropdowns in interactive notifications in Action Center is made consistent.
An issue where Battery Saver wouldn't be turned on after tapping the notification prompting you to turn on Battery Saver when the battery is at 20% is fixed.
The issue of dropped keystrokes when typing in Outlook Mail or Word Mobile is fixed.
The issue of Phones supporting "3G only" and Only 3G or 4G" not working properly is fixed.
Japanese Input Method Editor not working is fixed.
Updated the Phone Update and Update & Security icons in the Settings
Fixed an issue where you may not receive notification toasts until the next time the Action Center had been opened if you had tapped on a notification on the Lock screen but then aborted the prompt to enter your pin.
The issue of Lock screen page showing incorrect data while the page is loading is fixed.
Fixed an issue where Quiet Hours might unexpectedly turn off after having been manually turned on using the Quick Action.
Fixed an issue where certain sample images were displaying in portrait rather than landscape when used as a Lock screen background, and phone was connected to an external monitor
Fixed an issue where the "The accessory you're connecting to isn't working" error was truncated on the Connect
The issue of Windows Hello icon getting stuck on screen after logging in is fixed.
Fixed an issue where selecting a letter from the All apps list would sometimes scroll that letter to the bottom of the screen rather than the top.
Known Issues for PC and Mobile:
In PC, Narrator does not launch when you toggle switch to on via Settings app > Ease of access > narrator.
In Mobile, data issues with some Dual SIM devices not working properly continues and is being investigated.
Some apps won't be able to set Start or Lock screen backgrounds.
Kids Corner to be removed:
Announcing the new build, Dona Sarkar mentioned another point to note, the Kids Corner feature in Windows 10 Mobile and Windows Phone 8.1 will be removed beginning with Windows 10 Anniversary Update. This decision has been taken after having a look at the overall usage of the Kids Corner, which was too low to continue its development. She also mentioned about the amazing feedback and bug reports pouring in.