Popular Windows Phone game Wordament is now available in an iPhone version. Microsoft released the iPhone version of the game through the app store this weekend.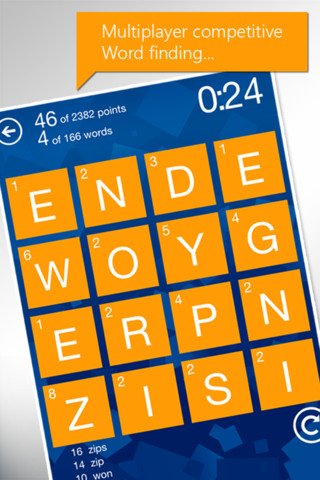 Wordament is a free word game developed by Windows developers. This game is based on 2 minute word finding challenge against the online players globally. The two minute clock race to find the words from a 4X4 grid makes it an entertaining game.
Wordament is one of the first Xbox Live-enabled games brought by Microsoft. This is a tournament based Boggle style game which includes global leader board and "Frenemies" list. To play Wordament, the user have to login with the Microsoft account. There are many online opponents in the games and the player can earn up to 50 Gamescores.
It is the first game in the Windows store featuring Xbox Live Achievements and not the Game Center making it even more impressive. The entire game stats and the Xbox friends are carried along with the users switching to the iOS version from the Windows Phone or Windows 8 version of Wordament.
iOS users can download the Wordament App from iTunes for free or even from the iOS App Store.
Wordament supports 39 languages for its basic UI, but the theme puzzles are currently available only in a few languages include English, Dutch, Swedish, German, Italian, French and Spanish.