In one of their blog posts Microsoft has revealed details on their upcoming Windows 10 Universal apps. The post on the official Windows blog shares details on Windows 10 developer platform strategy and the Universal app platform.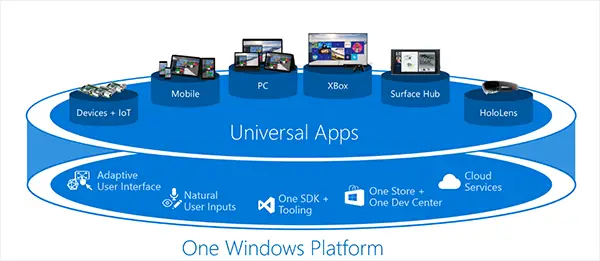 Windows 10: Culmination of Platform convergence journey
Windows now runs on a single, unified Windows core enabling one app to run on every Windows device – phone, tablet, PC, Xbox console – and also extends support to all new members of Windows family like HoloLens, Surface Hub and IoT devices like Raspberry Pi 2. The best part of Windows 10 is that all Windows devices can access one single store for app acquisition, distribution and updates.
The blog post talks about the 3 principle objectives of the platform evolution:
Driving scale through reach across device type
The blog post throws light on emerging trend of multimodal devices like 2-in-1 Surface Pro 3, where a customer can swap between different interaction models. Developers are bridging this gap by building one or more mobile apps, a desktop application, and a website. Windows 10 could make all this easier by reaching across device type.
Delivering unique and personal experiences
In an effort to provide highly personalised, flexible yet consistent user experience across different device range, developers could make use of Adoptive UX with screen layout and user control. Natural user inputs, improved cloud-based services, Cortana integration and the all-new action centre are the things which will add greater value in delivering unique and personal experience through Windows 10.
Maximizing investments in app and web code
Windows 10 brings number of advancements for modern web.  The blog post reveals details on new rendering engine included in Internet explorer 11, "Project Spartan" a new modern browser as a universal app and web apps where one could package a website as an app and publish it on Windows store.  They also made an announcement about the first prototype of the Windows 10 Cordova platform which Microsoft is working on.
While this is just a first look at the Windows 10 – more details for building apps, developer SDKs, etc, could be expected in upcoming Build 2015 conference in Windows 10 which is going to be held in April.