Microsoft Planner has already done what it has promised to do, i.e to bring teams together, help them plan the tasks, documents and also conversations in order to be more efficient and productive. Office 365 users can also use the Planner via the same interface as the shared chat-based workspace and currently the Planner Tab has a limited number of features.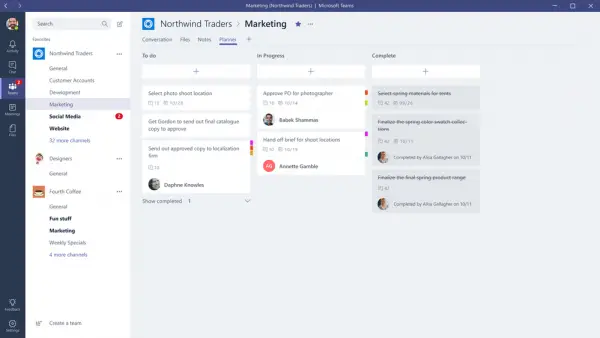 Microsoft will be bringing in the new set of features and has already shared the action plan.
Firstly Microsoft will work on Planner and Microsoft Teams seamless experience which will include full integration across applications. This is quintessential for the users to get their things done using the tool of their choice with minimum efforts.
Microsoft Team users will now be able to select the existing plans from the Planner Tabs in Microsoft Teams. Also, one would be able to launch the full Planner experience in order to access capabilities like Charts and other views.
The next one is interesting from a user perspective, users will have the ability to choose multiple plans as per Office 365 Group within the Planner. Once the implementation is done users will also be able to access any of the Plans that they started in Teams as well. Microsoft is also planning to add Planner web features like attachments, notifications, group by views and others to the Planner tab in Microsoft Teams.
Apart from the aforementioned features, Microsoft has said that it still has some more features in the pipeline (mostly integration ideas) and will reveal the details as they progress with the Planner road map. In case you have any thoughts or ideas that could make the tool better feel free to drop by here.
The bottom line is that Microsoft is indeed making a swift progress when it comes to the Planner and Teams tools and the company intends to help prospective customers by revealing their roadmap for the next year in advance.