Good news for Windows Phone Lumia users? Microsoft has come out with a Gestures app that allow users to control some of the functionality of the phone without touching the display. Although the released app is in beta stage currently, yet the features it provides is unique in every sense.
Gestures App for Windows Phones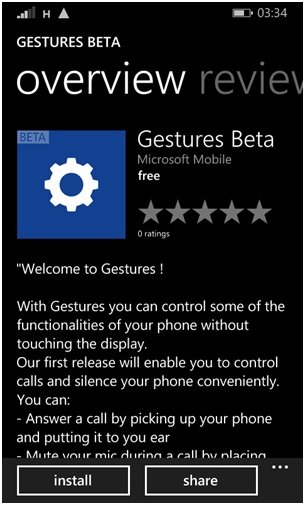 With the first release of this application you can control calls and silence your phone conveniently. Here are the lists of functions that 'Gestures Beta' offers to you-
With the Gestures Beta application you can directly answer the call by picking up the handset and placing it on your ears.
If you want to silence your cell phone while somebody is calling you, then what you can do is just to flip your phone display down.
Gestures Beta provides you the functionality of muting the Mic during the call by putting down the handset on the flat surface with the display facing downwards.
With Gestures Beta you can put the call on speaker by putting the handset on the flat surface with its display screen facing upwards.
With Glance, you can see the notification without unlocking the phone, but now with this application- Gestures Beta, you can handle the call without touching your phone's screen.
The size of the application is less that 1 MB so it hardly takes any time to get installed on your Lumia phone. One important announcement that Microsoft makes for the users of the devices like Lumia 635, Lumia 630 and Lumia 530, is that these devices will support only limited functionality. In future more advancement will be there in Gesture Beta to include more features and to make it more stable.
So, what's your take on this app? How did it perform on your Windows Phone?
Check out the app on Windows Store here. This application cannot be installed on the SD Card.