Microsoft has started to roll out Edge's newest version – Edge 97. This iteration is going to be available for users of the stable channels of Windows, macOS, and Linux, and packs in it a healthy bunch of new features. Among the ones that have made the headlines are Citations and better support with Apple's AirPods.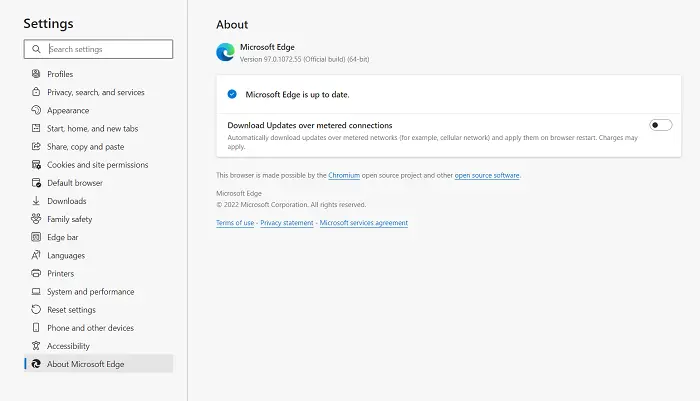 Microsoft rolls out Edge 97 with Control Guard Function
Users of Edge may check if their browser version has been updated by pasting 'edge://settings/help' on Edge's address bar. If you don't find the latest version running, you can manually check for pending updates. Most Edge updates are automatic but since this one pertains to new security features, you're better off installing it soon rather than later.
Among the major security features is the onboarding of support of Microsoft's Endpoint Data Loss Prevention system for Macs. A new feature named Control Guard Function has been integrated to deal with your system's vulnerabilities to corrupt memory while working on the browser.
The updates in the new version are minuscule and most of you unsuspecting users may not even notice them. Here, you would see all the security updates that were a part of the Chromium project. The new Citations feature is meant to aid academians (students, professors, etc.), making it easier for them to manage and generate citations. Microsoft has made this addition to Edge's toolkit in the form of an extension.
Another major change that has come with Edge 97 is that it will now block WebSQL elements from third-party sources. Reports suggest that the upcoming version 101 will get rid of them completely. We will also be seeing more HTTPS URLs in this version, as Edge will now attempt to automatically direct launch links and direct navigations in the HTTPS form.
Lastly, we have the user profile changes Edge has made. You can now use your current profile to make an account with websites while having other school or work accounts signed in on your device. If you want to read more about some of the technical security updates that come with this upgrade, you can visit the link here.