Microsoft has rolled out a new update for Lync, a Skype like service for the enterprise. The last major update for the Windows 8 Lync app was released in February. The new update has some bugs fixed and boasts some performance improvements. The improvements have been incorporated based on the users' feedback and reviews. The updated Lync claims to offer a better experience for the users.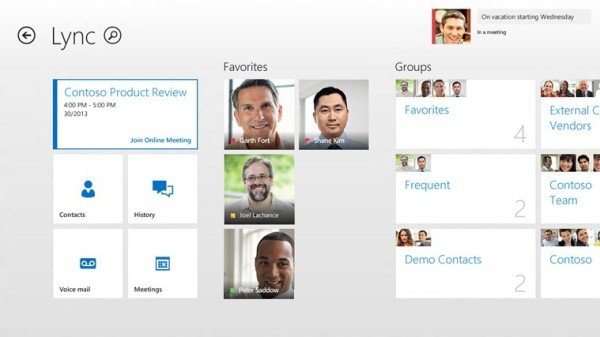 The welcome change that has been introduced to the app is that the app now lets users join any online meeting without needing a prior Lync account.
This is Lync re-imagined for the new Windows experience and optimized for touch: providing fast, natural, hands-on control of your communications, reads the description of the app in the Windows Store.
Lync Updated Features
Meetings Screen
New Meetings screen to view details about all your meetings for the current and next day
Snapped View
Snapped View to view contact information, make calls, start conversations, and see contacts' presence all while working on other apps.
No requirement of Lync Account
Join meetings anonymously even if you don't have a Lync account
Click a phone number to make a call
Make a call by clicking a phone number when it appears as a link in a browser or other app.
Improved high-contrast support!
Select any high-contrast Windows theme to make Lync easily visible.
Sign in reliably
Now, you can sign into Lync Windows Store more reliably. If you get stuck somewhere in the transit, there's better troubleshooting help when you have a problem.
For complete list of features, see this page. To download and install the update, go to Windows Store, select Updates > Lync > Install. If the Meetings button on the Lync Home screen becomes visible, you have got the update.