Microsoft has announced the general availability of the new version of the Microsoft Secure Score. Earlier this year, it first became available as the public preview. However, the company has completed its global rollout by making Microsoft Secure Score available to all of its customers.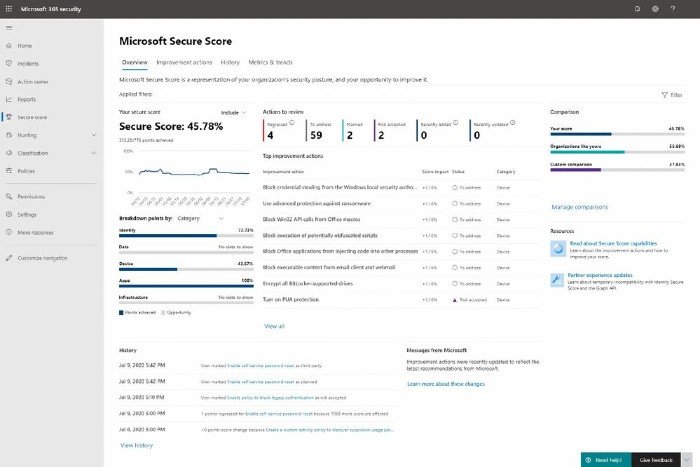 Microsoft Secure Score
This happens to be what Microsoft describes as a 'major release' for the company. The general public rollout of Microsoft Secure Score marks its transition to "becoming the go-to posture management app for security administrators." In its recent blog post, Microsoft wrote:
"During the public preview we've seen strong usage growth and there has been no shortage of feedback along the way. Much of it helped us further refine the user experience and your ideas jammed the long-term roadmap with a lot of great ideas."
For the company, there are two major areas of focus amid the transition to the new, latest version of Microsoft Secure Score: Status of Improvement Actions must be measurable through automation and Improvement actions when implemented must render a measurable level of risk reduction.
In the absence of these key focus areas, Microsoft Secure Score has a directional view of your posture status to offer instead of more accurate measurement as the company originally planned in its public preview, according to Microsoft. Microsoft has addressed this to some extent but it impacts a subset of the existing Improvement Actions.
As a result, Improvement Actions violating rules must now temporarily be removed from the product. Two classes of Improvement Actions impacted by these new principles are 'Not Scored' and 'Review.' While Not Scored denotes Improvement Actions that fail to determine Control Status on its own, 'Review' suggests appropriate actions.
To address inaccuracies in certain scenarios, Microsoft expanded its testing coverage, multi-factor authentication, and fixed Improvement Actions.
What is Microsoft Secure Score?
Microsoft Secure Score provides users with the centralized management of security-related points and Improvement Actions across Microsoft 365 and Azure workloads.
Standalone products can benefit from Microsoft Secure Score by aligning with their design patterns and branding. As a result, standalone products will share their score and improvement action data with Microsoft Secure Score.