OPSWAT has come up with its report on Market share, titled  – Antivirus Market Analysis: December 2012. The report as expected includes enhanced, detailed analysis on antivirus products and their usage worldwide and in North America markets. The report compares many popular antivirus vendors and products. The reports are being generated by OPSWAT's free AppRemover tool.
The AppRemover tool utilizes the detection capabilities of the OESIS Framework for providing insights to the applications installed on the endpoint computer. The report on antivirus vendors sees AVAST's increased and continued dominance over its rivals and in both, worldwide and North American markets.
Although AVAST continues to lead the worldwide antivirus vendor market, Microsoft is fast approaching the finishing line. Microsoft has taken a giant leap from 3.6% to a 16.8% market share. Other vendors have barely managed to go past 1% during the same period.
Some, such as AVG, have seen their shares falling by a small margin (~1%) but continue to increase their combined hold on the market, alongside Microsoft. The share of the top ten vendors have increased by 0.7% to account for almost 90% of the market.
Here's a screen-shot of the report below.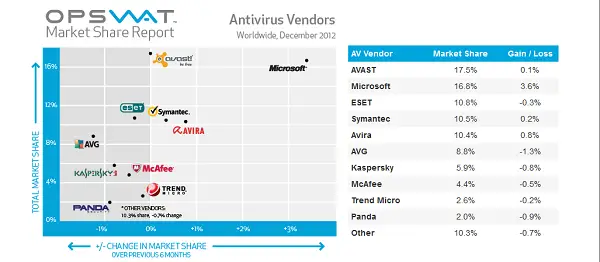 In another section, using Real-Time protection as an indicator, Microsoft managed to beat all and top the list. Microsoft leads the market with a nearly 20% share, followed by AVAST at 18.3% and Avira at 12.2%. See the graph below.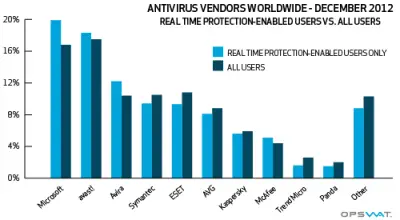 In the North American market, Microsoft takes a very strong lead. It captures 32% of the market share, an increase by 10% in last 6 months. Symantec with 15.7% holds the second place, While AVAST, with 11.3% secures the third spot.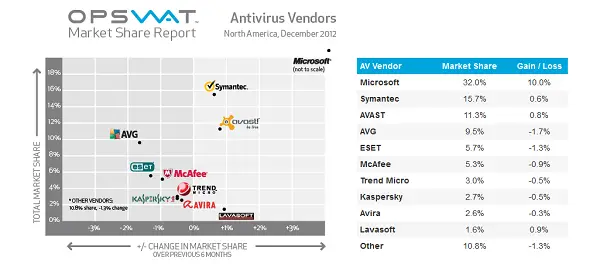 In study involving activated products using Real-time protection feature, Microsoft holds more than 37% of the North American AV market.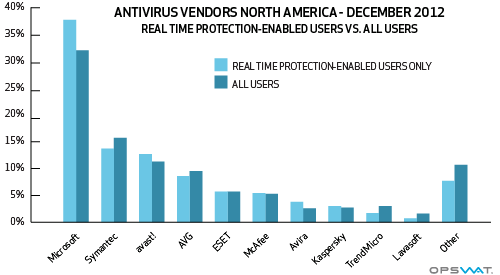 The report also studies worldwide and North America Antivirus Product Share. Its findings reveal, Microsoft Security Essentials is the top product worldwide. With a 2.3% increase for a total of 15.3%, the product has overtaken avast! Free Antivirus as the world's most widely-used product. Here, some have reported gains while some, losses. Here's a screenshot for your better understanding.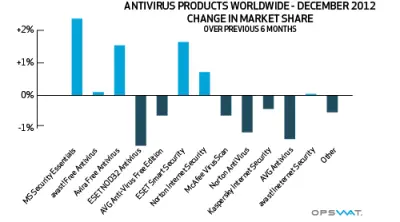 In North America too, Microsoft Security Essentials continues to make large gains, increasing 9.1% over the past six months to hold more than 30% of the market. Trailing by a good margin, but stable in the second position is avast! Free Antivirus, with 8.7% and a small increase of 0.4%, followed by AVG Anti-Virus Free Edition, Norton Internet Security, and Norton AntiVirus. Behind Security Essentials, Norton Internet Security showed the biggest gain, while Norton AntiVirus showed the biggest loss in the ranking.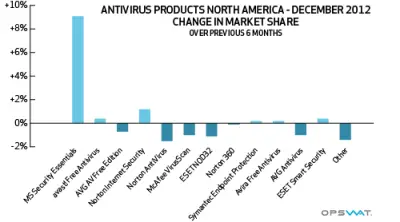 The report also makes a mention of Windows Operating system deployments. It indicates Windows 7 usage continues to increase in both the Worldwide and North American markets. Over the past six months, Windows 7 usage has increased nearly 4% worldwide and under 3% in North America' reports opswat.com.