Microsoft today announced that it had sold 40 million Windows 8 licenses till-date which makes it a month since Windows 8 was launched on 26th October 2012. At the Credit Suisse 2012 Annual Technology Conference, Tami Reller, Chief Marketing Officer and Chief Financial Officer, Windows – Microsoft announced the sales figures while also indicating that within the first month, Windows 8 actually did much well when compared to its previous version, Windows 7.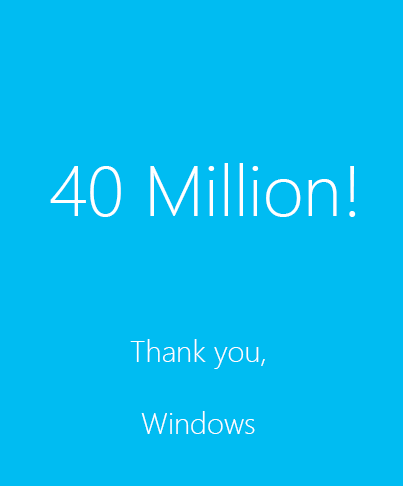 Windows 8 was launched last month after much fanfare where it was termed as a re-imagination of Windows with a brand new User Interface and improved compatibility, robustness and a dozen of other new features. Windows 8 has received a proportionate amount of pats and brickbats, some rejecting it as a failure while others embracing it as a welcome change.
"The journey is just beginning, but I am pleased to announce today that we have sold 40 million Windows 8 licenses so far." – Tami Reller.
Based on the telemetry data that Microsoft collects, Reller also disclosed that more than 90% of customers use the charms like Search and Share, more than 85% launched the desktop and more than 50% visited the Windows Store on the first day itself. Customers on an average added 19 tiles in the first week, with over 25% customers adding 30 or more tiles within a few days.
The sales figures show how well Windows 8 is doing by managing to surpass expectations and comparisons with Windows 7. For the record, Microsoft had sold 60 million Windows 7 licenses in the initial two months of its release while Windows 8 has managed to cross the 40 million mark in just a month!
Another fun fact pointed out by Ed Bott from ZDNet is that, 'In a month, Microsoft sold a quantity of Windows 8 licenses equal to more than half of the ENTIRE Mac user base'!