The moves Satya Nadella was planning to make immediately after assuming the leadership of the senior leaders and member of the board of directors presumed and perpetuated restructuring in the top leadership of the company. Shedding uncertainty over the developments, Microsoft has announced changes to senior leadership team.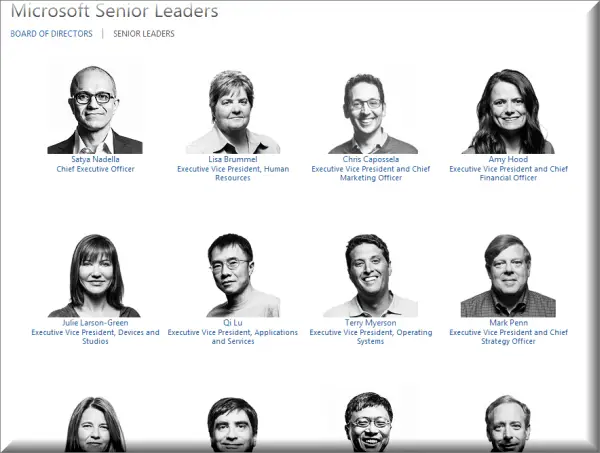 Microsoft Senior Leaders Team
In a mail addressed Microsoft employees, under the head of the page 'Leadership Update' Satya outlined the changes introduced in the highest rungs of the organization. It highlighted that Tony Bates who worked previously at Cisco as general manager and joined Microsoft following the acquisition of Skype, working as the head of Business development and Evangelism group would depart. Eric Rudder will serve as interim leader responsible for Business Development and Evangelism, in addition to his current role.
In the past month, I've had the opportunity to talk with many of you – in person, on Yammer, and in groups in Redmond as well as in our Boston and Northern California offices. (Thank you for all the questions and please keep the input coming!) I've also been able to get on the road meeting with customers and investors, which has been really helpful as well. One of my consistent themes has been a point I made in my original mail – we all need to do our best work, have broad impact and find real meaning in the work we do. Coming together as teams fuels this on a day-to-day basis. And having the Senior Leadership Team (SLT) set both pace and example means a lot to me, wrote Satya Nadella.
Following footsteps of Bates is another leader – Tami Reller who too would be vacating the Senior Leadership Team list. Long-time Microsoft marketing guy Chris Capossela will take over as Chief Marketing Officer. He, however, will retain the position as worldwide leader of the Consumer Channels Group (CCG). Role of Mark Penn would be now expanded to EVP, Chief Strategy Officer.
Just a week ago, the software-giant leaders announced Julie Larson-Green would be leaving her EVP role to take a new job as Chief Experience Officer under EVP Qi Lu. This suggested she'd also be vacating her position in the Senior Leadership Team (SLT), Microsoft's inner circle, replaced by Stephen Elop, the new EVP of Devices and Studios.