Microsoft has announced the general availability of Sensitivity Labels with protection for Office files in SharePoint and OneDrive. This way, Microsoft aims to protect user documents and emails in Microsoft 365 services. As part of Microsoft Information Protection (MIP), the company is working on new capabilities that enable classification, labeling, and protection to Office apps as well as Microsoft 365 productivity services like OneDrive, SharePoint, Teams, and Exchange Online.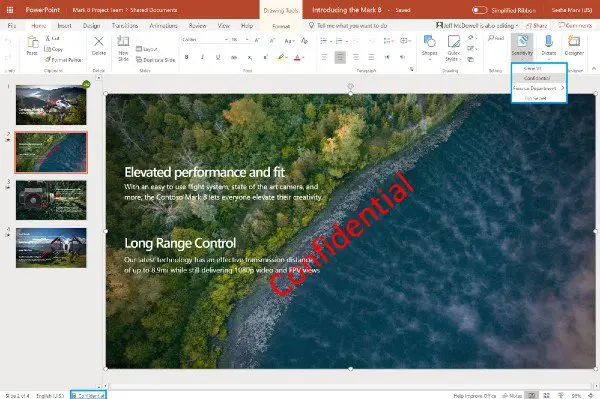 In its recent blog post, Microsoft wrote:
"Microsoft runs on trust. With the growing digital data in your organizations and sophistication of online threats, it's increasingly important to have intelligent security and simplified governance tools to safeguard your corporate data."
What is Sensitivity Labels?
Sensitivity Labels ensure to safeguard your business-critical data is protected, courtesy of Microsoft Information Protection (MIP).
Users can create and associate sensitivity labels with protection policies such as encryption and visual marking. Afterward, end users can label important documents and emails. Interestingly, the file remains under Microsoft Information Protection throughout its life cycle.
In what could be good news for Office users, they can apply sensitivity labels in the Office web app. Previously, sensitivity labels were limited to Office apps on Windows, Mac, iOS, and Android, Office users
If you are an Office web app user looking to use sensitivity labels, you can locate an option on the ribbon of the Office web app. Plus, you can also find a sensitivity label option under the applied label name on the status bar.
In addition to SharePoint and OneDrive files labeled and protected with encryption, users can coauthor using Office web apps, searching for content within documents, etc. Furthermore, Microsoft Information Protection continues to protect files and documents after they are downloaded.
How to turn on Sensitivity Labels?
If you are Microsoft 365 customer, you can simply turn on Sensitivity Labels in the Microsoft 365 compliance center. Meanwhile, SharePoint sensitivity labels apply to Word, Excel, and PowerPoint files in SharePoint and OneDrive.
Sign in to the Microsoft 365 compliance center and navigate to Solutions > Information protection. If the option is not visible to you, select Show all. Once you see a message to turn on the ability to process content in Office online files, select 'Turn on now.'