Microsoft Skype helps us chat, call, share and connect with people we care about in an instant. The service recently got a facelift with a revamped interface and many new features. The change is intended to give users the power to personalize their experience on mobile and desktop.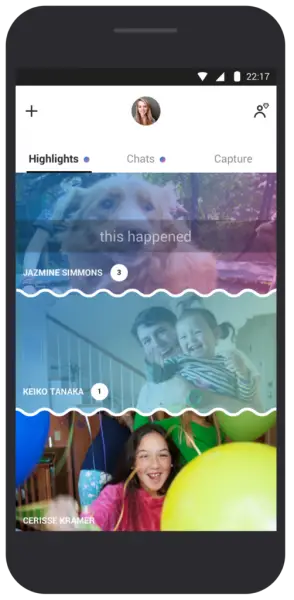 Microsoft Skype gets a facelift
Realizing the fact that boring old conversations aren't enough to hold the attention of the modern user, Microsoft has added group conversations, add-ins, and bots to Skype to turn talk into action.
Today, we begin rolling out the new Skype worldwide, coming first to mobile and then to desktop. It will be available first on Android devices, releasing gradually over the coming weeks, followed by the new version for iPhone. Versions for Windows and Mac will be released over the next few months", mentions Skype Blog post.
The first visible change is the change in appearance. You can now customize Skype with your favorite colors. Next, there's Highlights feature. It lets you create a highlight reel of your day with photos and videos, so you can share your everyday moments right away.
To do so, simply swipe to get access to your camera app, capture a photo or video and post it to your Highlights or send it directly to your contacts or groups. Once you do this, your friends and family can react to it with emoticons.
Apart from this, there's a "Find" panel that takes center stage. It makes Skype infinitely searchable. Using this option, you can order Skype to find event tickets or famous recipes for you and drag them straight into a conversation you are having with someone.
The only news that can come across as a disappoint for some users is that Windows users won't be the first group to experience this change. The new version of Skype will be first rolled out to Android users.
For more information, see Skype Blog.