Researchers have criticized Microsoft's Productivity Score system, which allows managers to analyze employee productivity. Critics say that the analytics tools as a part of the feature allow managers to enable a kind of workspace surveillance. Managers could also dig deeper into individual-level employee data — including their participation in chats, collaborations, and other documents.
UPDATE: Microsoft will remove user names from 'Productivity Score' feature after the backlash.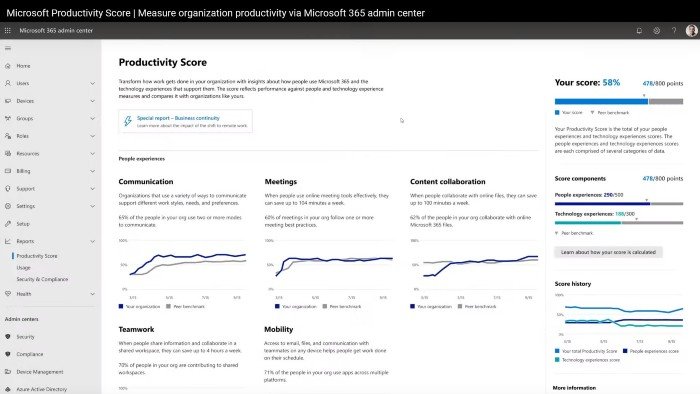 Microsoft's 'Productivity Score' system faces backlash
Wolfie Crhristl, a researcher from Austria, was one of the many to point out Microsoft's 'productivity score' system. He alleges that managers evaluating individual-level data is problematic and that the transfer of power structure, where the organization retains almost complete control, will affect the overall future of work culture.
If employers and vendors such as Microsoft keep going down the path of limitless data solutionism, often as an end to itself, they will help to destroy any remaining trust into meaningful data processing.

What can knowledge workers do?

– Learn & discuss
– Organize & fight back

— Wolfie Christl (@WolfieChristl) November 26, 2020
Crhristl also pointed out the problematics of the situation where Microsoft gets to define 'productivity' and other metrics that may have a more profound impact on millions of employees using Microsoft 365 Suite.
According to the researcher and many others who oppose this so-called feature, Microsoft provides an unnecessary amount of privilege to the employers, enabling a kind of workspace surveillance for controlling employee behavior.
There are also instances when Microsoft's productivity metrics are compared to those observed in factories and call-center workspaces. Critics fear that it transcends the respect given for individual privacy in a workspace.
In response to allegations, Microsoft said that productivity score is not taken as a work monitoring tool. Instead, they are made to help managers discover new ways of working and how customers get to use the power of interaction and collaboration through brand-new technology ventures, according to the company.
Microsoft also added that only aggregate reports are provided from the productivity score but did not mention anything about these reports' inclusion of personal information.
Of course, the response from Microsoft has been called a sham by netizens and security analysts alike. Basecamp co-founder David Heinemeier Hansson said that subjecting employees to constant is similar to psychological abuse, and nobody should worry about how their work reflects on the statistics.