After the Anniversary Update release last week, Microsoft has started rolling out new builds again. This might be the fastest new build availability after a release. Windows 10 Anniversary Update (Build 14393) replaced the November Update (Build 10586). And just after a week of Anniversary Update release, Microsoft is ready and started releasing new builds. It released Windows 10 Insider Preview Build 14901 for PC to Windows Insiders in the fast ring.
One will not see many big changes or new features just yet in these builds release. Microsoft is focusing on structural improvements to OneCore. It is the heart of Windows across PC, tablet, phone, IOT, Hololens and Xbox. Microsoft is ensuring OneCore is optimally structured for the new features that will be coming up in later builds. So may be, present build release may have more bugs. If one is uncomfortable, can move to Slow or Release Preview ring.
What's new in Build 14901:
Product Education improved: For educating users about new features in Windows 10, Microsoft is testing out new notifications feature within File Explorer. One can opt out of these notifications by unchecking "Show sync provider notifications' from Options menu in View tab of File Explorer.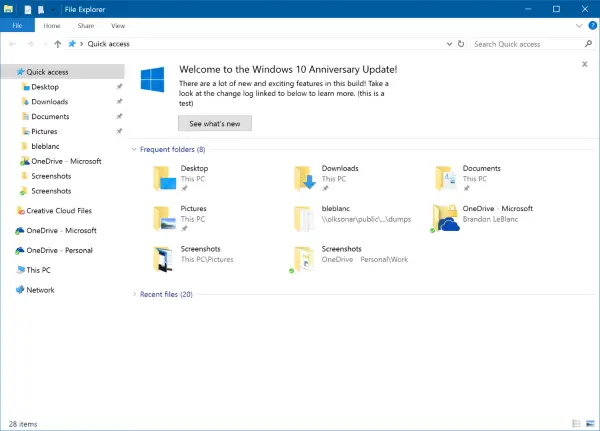 Known issues in Build 14901:
Adobe Acrobat Reader crashes on launch.
Kernel debugging support over 1394 removed.
What about Windows 10 Mobile build?
As said, the build 14901 released is only for PC. Microsoft similar to what it did earlier, is starting off with PC build release, and after few weeks will release Mobile build. At present it's focusing totally on the release of Windows 10 Anniversary Update for Mobile and is almost ready.
Announcing the new build, Dona Sarkar also mentioned that this build may take a couple of hours to show up for some Windows Insiders as updated device targeting needs to roll out.