Microsoft had announced its new design language called Fluent Design System a few years back. They have been long working on an overhaul across all its products and services on their User Experiences. This included the user experience of these products and services as well as their iconography. They have also been teasing its new icons across all their products and services and finally starting today, Microsoft is rolling out the new icons to all the Windows Insiders on the Fast Ring.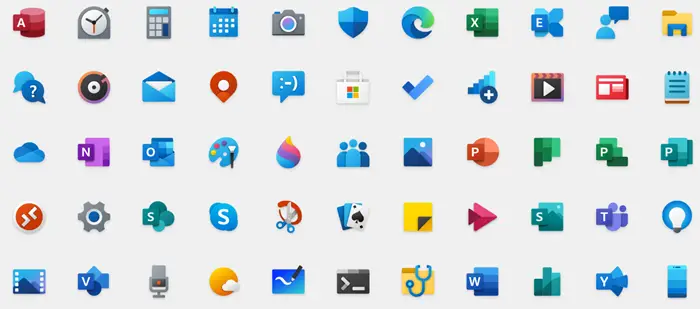 Leveraging the Fluent Design System, we introduced depth and color to our iconography. These additional cues are subtle, but they make a world of difference when scanning an interface. We live among multiple operating systems, constantly switching between tasks, priorities, and identities. The addition of color also gives a cohesive design language across platforms: the icon that's familiar in Windows 10 is the same on Android, iOS, and Mac, providing a wayfinding path across your digital life. The new rounded corners across the Windows 10 interface achieve the same goal: making these icons feel like they live in the real world; something familiar and approachable to grab onto, says Microsoft.
Windows 10 gets new icons
These new icons are visible on the Start Menu, the Taskbar, and the Splash Screen on the applicable apps. The main apps that are getting these new icons are Mail and Calendar, Groove Music, Voice Recorder, Calculator, Alarm and Clock, and Movies and TV.
In order to get these updates, you need to make sure that you are enrolled in the Windows Insider Program and are running the latest Fast Ring Build. If you still don't see these icons, try to check for updates for these apps manually on the Microsoft Store.
If all the Microsoft software on your computer is up to date, you will get newer icons for the Microsoft Office suite of applications as well.
This new icon update is available on the computers enrolled on the Windows Insider Program and is expected to be rolled out soon to the users running on Production.
For more details, you can read their post on medium.com.