Microsoft has stopped its Meltdown and Spectre patch updates on machines with AMD processors due to reports from users that it has caused crashes on their machines. It has been claimed that the patch has sent some systems into a permanent loop and has caused Microsoft to scale back on the distribution of the patches to users who may be affected by the installation of the patch.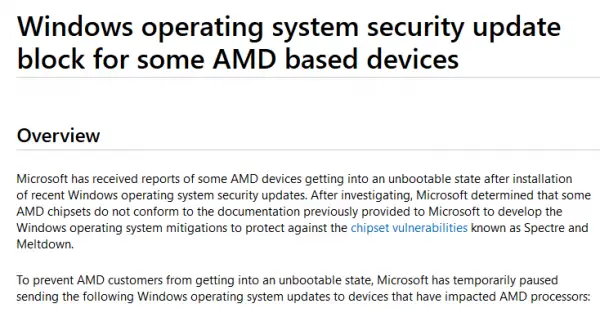 Microsoft stops Updates for AMD PCs
"To prevent AMD customers from getting into an unbootable state, Microsoft will temporarily pause sending the following Windows operating system updates to devices with impacted AMD processors at this time," Microsoft said in a statement on its support site.
Microsoft said that it had "determined that some AMD chipsets do not conform to the documentation previously provided to Microsoft to develop the Windows operating system mitigations to protect against the chipset vulnerabilities known as Spectre and Meltdown".
AMD processors are not affected by the Meltdown design flaw that affects millions of computers and other devices around the world, but it can be infected by Sceptre. There is little evidence of the vulnerabilities being exploited so far, but Microsoft is taking no chances and has reacted quickly to the issue by getting patches out quickly.
The flaw is a worry for Microsoft, and the Redmond giant is working hard to put it right for customers. They have had to encourage the antivirus industry to ensure compatibility by requiring a change in the coding of their updates. These changes help Microsoft to ensure compliance with the patches and to reduce the possibility of damage to users affected machines. It's a mixture of good and bad news for AMD. It shows that on the one hand their designs don't have a design flaw that is affecting millions of Windows users, but bad due to the increased chance of machines being destroyed.
Please read further details about the case on Microsoft's support website here.