Microsoft has announced a video sharing service for businesses called as Microsoft Stream. The new video service aims to provide businesses the facility to upload, share and tag videos within the organization. Using Microsoft Stream users can watch videos on any device, anytime.
Available in the preview mode, Microsoft Stream builds upon the learnings and success of Office 365 Video, and would eventually converge with the Office 365 Video, making it the de facto video experience in Office 365.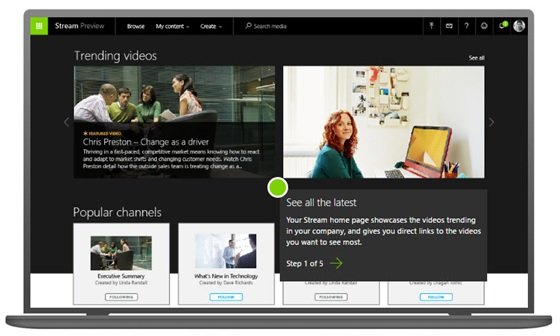 James Phillips – Corporate Vice President, Microsoft Business Intelligence Products Group, wrote in a blog post,
"Starting today, anyone with a business email address can sign up for the preview in seconds and begin uploading, sharing and tagging videos in their organization. By taking the "work" out of managing video storage and security, Microsoft Stream enables organizations and their employees to communicate and collaborate with video more easily".
Microsoft Stream
The preview version of the Microsoft Stream comes with following features,
Sign up in seconds: The signing up is easy and quick and is free as of now.
Easily upload and organize your video: With easy drag and drop capabilities, upload your videos and organize them by either starting a channel or contributing to a channel based on team, group, topic etc.
Discover relevant content: Easy searching via hashtags and trending video.
Available on any device, anytime: View videos in Microsoft Stream on all your devices from anywhere, anytime.
Secure video management: Users can manage the viewers of their shared videos.
Engage with content: Feature to share videos via email, and embed videos to web pages.
Upcoming improvements
Phillips mentions how Microsoft Stream would evolve the communication within the organizations while delivering a greater experience to the users. He expects Stream to increase the live video communication within teams and eventually it would become the destination portal for both live and video on demand.
To allow for better searching capability, Stream would Leverage capabilities such as audio transcription and face detection, empowering employees to find relevant content faster. Business users will also have the facility to integrate Stream videos to Microsoft business utility apps such as PowerApps, Microsoft Flow and SharePoint.
Microsoft also plans to enable IT to manage access and settings like granting and assigning channel and video access, remove and monitor content and manage what is viewable to specific groups in the organization.
Using Microsoft Stream APIs, developers will be able to create custom applications and make them available in new AppSource, Microsoft's marketplace for business applications.
Read about Microsoft Bookings too.