Microsoft Support Diagnostic Tool (MSDT) comes pre-installed in Microsoft Windows operating systems. It is used by Microsoft Technical Support agents to analyze diagnostic data remotely and to fix and repair issues on a user's system. You can launch it by typing msdt in Windows Search or in the Run command box. In the future, you will not be able to use this tool as Microsoft has decided to retire MSDT. The Microsoft Support Diagnostic Tool is to be retired by 2025, which is the same year in which Microsoft is going to end the support for Windows 10.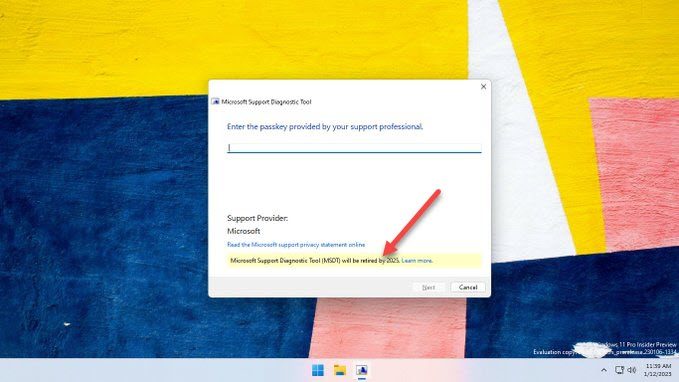 Microsoft Support Support Diagnostic Tool to be retired
If you are using insider preview channels of the Microsoft Windows operating system, the updates will be available to you before Microsoft releases them for stable build. Hence, you can use all the upcoming features before their public release. The information about the discontinuation of MSDT was tweeted by @WithinRafael. After installing the latest Dev build 25276, he noticed a message a the bottom of the Microsoft Support Diagnostic Tool saying:
Microsoft Support Diagnostic Tool (MSDT) will be retired by 2025.
An official link to the Microsoft website, aka.ms/msdtretire has also been shared. Users can visit here for more information. However, this link is not currently operational. There has been no official announcement by Microsoft yet. But the banner displays the message about the retirement of the MSDT tool, soon, Microsoft may make an official announcement for the same.
Last year, security vulnerabilities Follina: CVE-2022-30190 and DogWalk were discovered in the MSDT tool by security researchers. Some attackers abused the Microsoft Support Diagnostic Tool via the ms-msdt protocol to download and abuse malicious Word documents and Excel spreadsheets from the web. After that, the Security Researchers also suggested users disable the ms-msdt protocol.
Windows 12 is in news and Microsoft is likely to release it in 2024. Maybe Microsoft has done this from the security aspect of Windows 12.