The all new Surface 3 is set to release in May 2015. Do not confuse it with Surface Pro 3 as the Surface 3 is result of researching on a tablet that is below the cost of Microsoft Surface Pro 3, and yet can run applications that demand resources. Rumors have it that it is redesigned Surface RT, but the official Microsoft marketplace website has a different story to tell.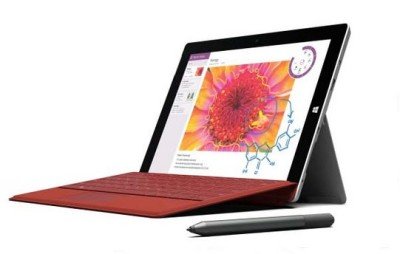 Surface 3 release date, price
Microsoft claims that Surface 3 can replace the traditional laptop. It is a basically a tablet that can function as a laptop as most Surface Pro products do when docked to the keyboard. It has the ability to run high end applications without crashing. This means you can also play high end games on the new Surface 3. Microsoft calls it Surface 3 (4G LTE) and says it is the thinnest Surface to hit the market so far. It also says the Surface 3 is the most light among the Surface range of products.
Buying a Surface 3 will also give you a year's subscription of Office 365. The cost of Surface 3 has been put up at $499. The essential features of Surface are as follows:
It has a 10.8 inch screen compared to the 12 inch screen of Surface Pro 3, but that does not make it any less compared to other convertibles. It is 8.77 mm wide and just 622 grams or 1.37 pounds. The auto-screen-orientation helps you use it both in portrait and landscape mode as the screen aspect is 3:2 – just like the Surface Pro 3.
It has an 8MP rear camera and a 3.5 MP front camera for taking both selfies and to talk on Skype, etc. software. Microsoft claims that the battery will last for 10 hours under ideal conditions (though it does not specify how exactly they calculated the battery duration).
Surface 3 comes with a Micro USB charger and a 13W charger so that you can charge it using both the phone charger as well as by plugging into wall socket. It is a 64 bit device so can run Windows 8.1 64 bit that can be later upgraded to Windows 10 for free within an year from the release of the latest operating system from Microsoft. The device is powered by Intel's Quad Atom x7 processor so that you get good speeds while playing games and while browsing internet.
Read the complete Surface 3 specs here. It is now also available for pre-order at Amazon here: Surface 3 Tablet (10.8-Inch, 64 GB, Intel Atom) | Surface 3 Tablet (10.8-Inch, 128 GB, Intel Atom).
Please visit the Microsoft Blog to know more about the features of Surface 3.