In what could be good news for Surface Earbuds users, the usage of Surface Earbuds is no longer limited to answering phone/video calls or listening to music. Although the primary usage of Surface Earbuds or any wireless earbuds for that matter is answering phone calls and listening to music, Microsoft is expanding use-case scenarios of Surface Earbuds to enable cross-product integration.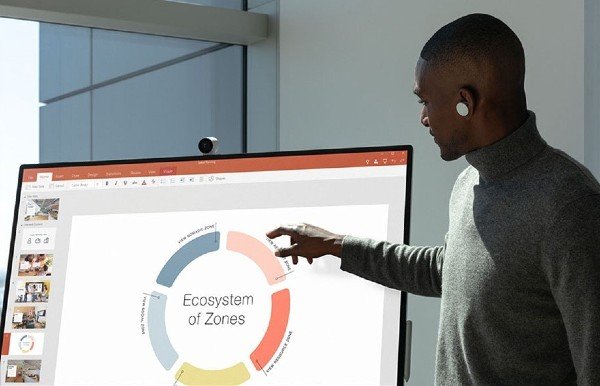 Surface Earbuds to control PowerPoint presentations
Henceforth, Microsoft Office users can remotely and wirelessly control PowerPoint presentations using Surface Earbuds. In its recent blog post, Microsoft wrote:
"This new capability can be helpful for parents with work presentations and kids with end-of-the-year school projects. If you forget your clicker or don't own one, your Surface earbuds have you covered. No clicker, no problem!"
Microsoft Office Insiders who are running PowerPoint using Windows Version 2004 (Build 12730.20270) or later can access this feature.
To get started, all users need to do is pair their Surface Earbuds using Bluetooth in the Surface Audio app for Windows. Press the button F5 to start the presentation. Alternatively, users can navigate to Slide Show > From Beginning.
When in Slide Show mode, right-click on the slide. Under Surface Earbuds Settings, choose the option Use Gestures to Control Presentation. MS Office will remember this setting for all your future presentations.
To control your PowerPoint presentation using Surface Earbuds, all you need to is swipe forward and backward on the left earbud to proceed through your PowerPoint presentation. You can double-tap to play or pause videos embedded in your PowerPoint presentation.
If you are unable to locate the option for Surface Earbuds Settings in Slide Show, ensure that you have been successful in pairing your Earbuds via the Surface Audio app. Make sure that you can locate LE Surface Earbuds under 'Other devices' section of 'Windows Bluetooth & other devices' settings.
Surface Earbuds need not be in your ears for you to control your PowerPoint presentations using gestures support. Also, only left earbuds can control your PowerPoint presentations.
When using the Earbuds to control PowerPoint presentations, you can no longer hear system audio. If you want to hear system audio during your presentation, you will need to disable the feature by right-clicking on a slide while in Slide Show mode. Navigate to Settings > Use Gestures to Control Presentation.
Meanwhile, let's take a look at some of the main differences between the Surface Earbuds and the Apple AirPods.