Panos Panay, the Head of the Surface team at Microsoft announced a new iteration of their business focused productivity device – the Surface Hub 2. The first iteration of this product was released long ago in January 2016.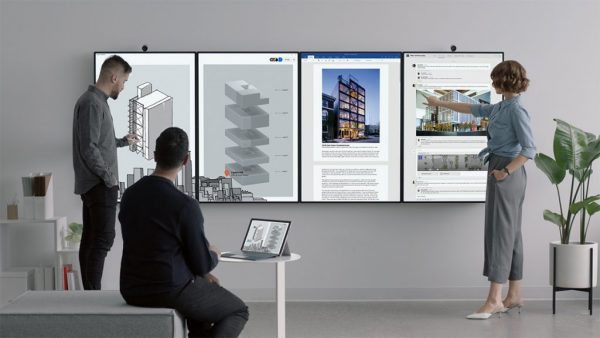 Surface Hub 2 is all about collaboration
This Surface Hub 2 comes with a humongous 50.5-inch display and the screen ratio of 3:2. With this new product, Microsoft aims to redefine how the boring conference room meetings take place.
The device will support a resolution of 4K+. The bezels are cut short so much that the new screen to body ratio makes it look smarter, slimmer. Overall, they have actually revamped the whole Surface Hub 2. With new muscle wire implementations, the Surface team at Microsoft has made it possible for the Hub 2 to change the resolution from portrait to landscape and vice-versa.
Microsoft has always been targeting the business customers with this line up of the Surface Hubs. It can be used as a whiteboard; users can have video conferencing using Microsoft Teams and Skype with a 4K camera which comes with the device. Running on Windows 10, it is really helpful in integrating with all your Windows devices like Surface. It also supports high graphics rendering, and due to the software part being powered by Windows 10, you can access all your files across your devices using the Windows Timeline and continue where you left off. With a special connection with Surface devices, files can be cast and transferred to the Hub 2 in real-time. This makes the Hub 2 the ultimate device for productivity in conference rooms.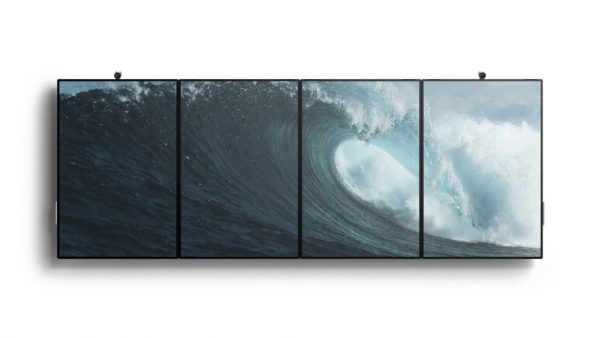 In the official blog post, Panos has also talked about the first version of the Surface Hub. He said,
"We started on the journey of empowering teams with the original Surface Hub and the value it provides has resonated with businesses worldwide. We've sold to more than 5000 customers across 25 markets. Over half of Fortune 100 companies have purchased Surface Hubs to improve team's efficiency and how they collaborate – breaking down barriers and creating real business value. We believe our customers will love Surface Hub 2 even more."
https://www.youtube.com/watch?v=7DbslbKsQSk
This Surface Hub 2 will be available to test to selected commercial customers in 2018 itself but will be broadly available to businesses in 2019. If you run your own business and wish to buy a Surface Hub 2 to fulfill your needs, head here to learn more.