Microsoft has officially announced its new Surface Laptop 4. The company has priced this product at a starting price of $999, and customers in the US, Canada, and Japan can purchase it now.

Microsoft Surface Laptop 4
While the company says the device will be available in other markets in a couple of weeks, Microsoft was already offering a few promotions in the United States. Those who got the Surface Laptop 4 from Best Buy or Microsoft could get a free pair of Surface Earbuds for free.
This time, Microsoft seems to offer a better variety of hardware options. In addition to the choice between a 13.5-inch and a 15-inch touch-screen display, customers can choose between CPUs from AMD and Intel. The base version of the device, priced at $999, comes with an AMD Ryzen 5 4680U chip, 8GB of RAM, and 256GB of storage.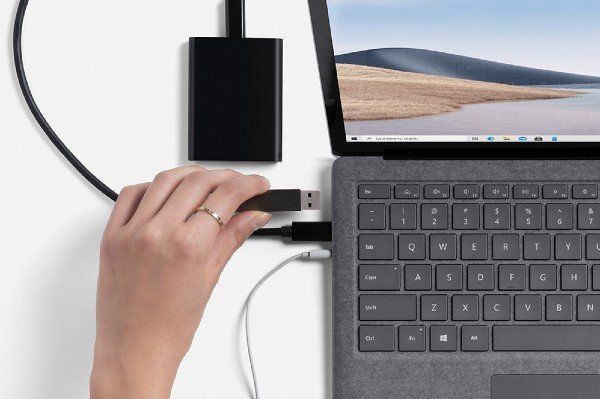 However, if you want an Intel-based variant, you will have to pay $1299, for which you would have an Intel Core i5-1135G7 processor, 8GB of RAM, and 512GB of SSD storage. The top-specifications variants offer up to 32GB of RAM, 1TB of SSD storage, and Ryzen 7/Intel Core i7 processors. It is worth noting that Microsoft offers high-end versions on both display sizes.
Apart from the improved processors, the Surface Laptop 4 seems to be running a set of hardware that we have seen in its predecessors. For instance, both 13.5 and 15-inch panels have a pixel density of 201ppi and follow the 3:2 aspect ratio. The dimensions have also retained the previous year's figures, weighing 2.8lbs and 3.4lbs for the 13.5 and 15-inch variants, respectively.
The build still uses aluminum and optional Alcantara fabric for the keyboard deck. It is worth noting that the new laptop still does not offer support for Thunderbolt 3 or 4. Instead, you get a couple of USB Type-C and Type-A ports, accompanied by the trusty 3.5mm headphone jack.
On the connectivity side, Microsoft has added Wi-Fi 6 and Bluetooth 5, but it still lacks a fingerprint reader. However, Microsoft claims the Surface Laptop 4 can last longer on a single charge. The Ryzen 5-powered variants with a 13.5-inch screen claim to run for up to 19 hours, while others have a battery backup of up to 16.5 hours.
The devices are available for shipping now, and users can also check out the Surface Headphones 2.