After much hype and buzz, here comes the Surface Pro 3. Yes, Microsoft's newest tablet-laptop hybrid is up for sales in the US and Canada. Remember, Surface Pro 3 is built to give head-on competition to laptops and boasts of high quality features. It comes with a 12-inch ClearType Full HD display, 4th-generation Intel® Core™ processor and goes up-to 8 GB of RAM.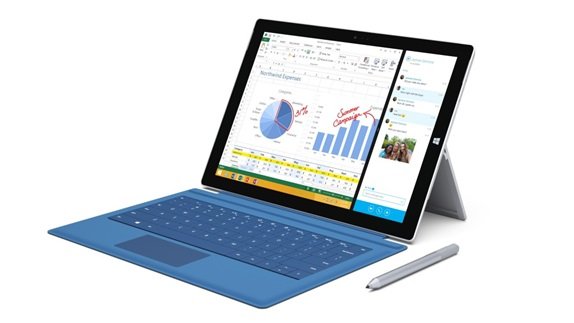 Surface Pro 3 is currently available at Microsoft's online or retail partners such as Best Buy, Staples or Tiger Direct. Even though Microsoft offers the Surface Pro 3 in a variety of configurations, currently only those based on Intel's i5 processor would be shipped.
The low-end model with an Intel i3 chip and the high-end models built around i7 processors would be available for shipping only in August.
Speaking on the availability, Panos Panay wrote on the Surface blog,
Many of you have placed pre-orders for the new Surface, and those who ordered the Intel® Core™ i5 versions will be receiving them directly. Those who are interested in the Core i3 and Core i7 versions will remember that when we first announced the product we said these would be shipping "in August." Thanks to some great work by our team, I can confirm that, in this case, "in August" means August 1, which is when these versions will arrive in stores and at commercial resellers in Canada and the US.
Surface Pro 3 is priced between $799 to $1949. The i3 model offers the more budget friendly option with a price of $799 however it won't ship until August. Hence, currently, the available i5 version costs either $1,000 (for 128 GB of storage) or $1,300 (for 256 GB).
For other countries except the US and Canada, Microsoft says that by the end of August 2014, Intel Core™i3, i5, and i7 versions of Surface Pro 3, as well as select new accessories, will become available for purchase in 26 additional markets: Australia, Austria, Belgium, China, Denmark, Finland, France, Germany, Hong Kong, Ireland, Italy, Japan, Korea, Luxembourg, Malaysia, the Netherlands, New Zealand, Norway, Portugal, Singapore, Spain, Sweden, Switzerland, Taiwan, Thailand and the United Kingdom.