Microsoft Surface Pro is now available for sale in U.S and Canadian market. Despite the huge snow storm in NYC and cancellation of Surface Pro welcome party, Microsoft Corp. put the tablet on sale in U.S and Canada.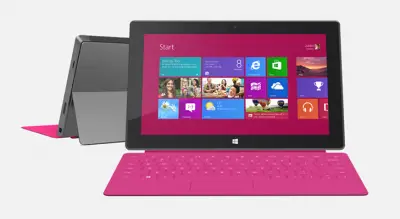 The potential customers can buy the Surface Pro from Microsoft Stores (Staple and Best Buy) in U.S and (Best Buy and Future Shop) in Canada. Surface Pro Tablet is also available online at Microsoft Store.
Canada and U.S residents can now purchase Surface Pro tagged with a starting price of $899 for the 64 GB model. The 128GB model of Surface Pro is available for $999. Along with the Surface Pro tablet some other products and accessories are also made available for sale. The accessories available for sale include Wedge Touch Mouse Surface Edition available for $69.5 and Touch and Type cover in red, magenta and cyan colors available for $129.99.
Talking about the launch in a Press Release; Panos Panay, corporate Vice President of Microsoft says, "We are thrilled to expand the Surface family with the release of Surface Pro. The launch of Surface Pro marks a pivotal moment for customers who can now do more with their machines than ever before. Within the Surface family, customers will be able to choose a combination of devices that best suit their needs: Surface Pro, which provides the power and performance of a laptop in a tablet package, or Surface RT, which offers the convenience of a tablet with some laptop capabilities, so you can get things done."
The company also confirmed in the press release that the Surface RT will also be made available in more markets by February 14, 2013. Surface RT will be made available to Switzerland, Sweden, Spain, Portugal, Norway, Netherlands, Luxembourg, Italy, Ireland, Finland, Denmark, Belgium and Austria.
There are reports that the Surface Pro 128GB is out of stock already!