Yesterday, at the Windows 10 event in New York City, Microsoft announced an all-in-one PC called as the Surface Studio and along with it a quirky, innovative knob, the Surface Dial.

Although, the new Surface device was on the expected lines considering Microsoft's long-term plans to woo designers and artists who have been using Apple laptops, what really surprised everyone was the new input peripheral device, the Surface Dial.
Surface Dial
Surface Dial is like a physical knob that you can turn and click to control application settings. For Surface users, you can place the dial on the screen of your Surface device to experience intuitive control of features. You can rotate, turn and click Surface Dial to adjust app settings and tools. Moreover, you can place the Dial on the screen for more intuitive control of features, like easy access to shortcuts, controls, drawing tools, and more.
As Microsoft describes,
Surface Dial is a completely new way to interact with technology. Store, customize, access, navigate, and reimagine physical tools in the digital world—from concept to creation. We draw, scribble, and sketch to organize our thoughts and communicate with others. With Surface Dial in one hand and Surface Pen in the other, you can unlock your creativity with easy access to shortcuts, controls, drawing tools, and more.
For someone like a designer, Surface Dial could be a perfect accessory that allows both hands to be used at once for a much more natural experience.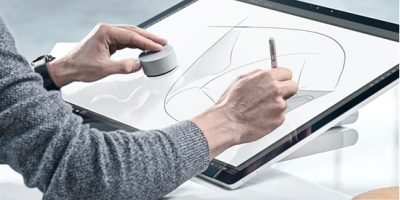 Apart from above, there are other innovative features of Dial that you can explore such as,
Dial allows easy access to shortcuts, controls, drawing tools, and more
Adjust volume on your favorite tracks in Spotify, Groove, and Pandora
Scroll through articles on your favorite news websites
Although Microsoft is demonstrating the device on the Surface Studio as of now, it's also supposed to work on the Surface Pro 3, Surface Pro 4, and the Surface Book.
Availability
The Surface Dial will be available from November 10th for $99. For those pre-ordering Surface Studio, Dial will be included as free.
Surface Studio
Microsoft Surface Studio is a new generation all-in-one desktop. Microsoft is aiming to sell this device mostly to professionals like architects, artists, and designers as it is a perfect match to their needs.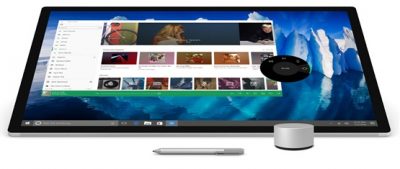 Microsoft says that it is the 'world's thinnest LCD monitor ever built' at 12.5mm, it has an aluminum enclosure with touchscreen and measures 28 inches across. The display carries a 3:2 aspect ratio with a pixel density of 192 ppi.
A special feature of Surface Studio PC is the zero gravity hinge with custom tuned springs and 20-degree drafting angle. It bends down just with a touch to convert into a 28-inch sized tablet. It also supports Surface Pen. Therefore you can do real time scribbling on display. Microsoft claims that Studio PC delivers 63 percent more pixels than a state-of-the-art 4K TV.
Talking about internals, Surface Studio come with Intel Core i5/i7 6th generation processor with 8GB, 16GB, or 32GB RAM to choose from. Hard disk storage is 1TB or 2TB. It also features a Windows Hello face sign-in camera and 5 MP front camera with 1080p HD video. For Music lovers, Studio houses dual microphones, Stereo 2.1 speakers and a 3.5 mm headphone jack.
https://youtu.be/BzMLA8YIgG0
Availability
Starting at $2999, the highest configuration goes up to $4199. Surface Studio will initially be available in limited quantities this Christmas. If you Pre-order Surface Studio before December 1, you will receive it in 2017 along with a Surface Dial.