After dilly-dallying on the price factor for months after previewing it to the world, Microsoft has finally opened curtains, announcing the price for various versions of Microsoft Surface tablet, the new tablet device indigenously built and to-be sold by Microsoft all across the world through its online stores.
Microsoft Surface Tab Prices
Having promised to price the Surface tab on par with its competitors, Microsoft doesn't disappoint with the following figures:
Surface 32GB (Without Black Touch Cover) – $499
Surface 32GB (With Black Touch Cover) – $599
Surface 64GB (With Black Touch Cover) – $699
Additionally, customers can opt for the Touch keyboard as a separate entity, with the Touch Cover (white, red, black, blue and purple) priced at $119.99 while the Type Cover (only black) comes at $129.99. This is a welcome move to enable users who have pre-ordered to have the tablet by their side when it officially launches on October 26, 2012.
When it comes to the Surface tab, Microsoft is firing from all guns. A brand new advertising strategy starting off with street graffiti and later by unique promo videos; excellent reviews about the hardware and build; and the idea of using Windows 8, a hugely tablet-favored operating system on a tablet device specially built by Microsoft – all these factors will definitely work out in favor of the software giant based at Redmond.
Microsoft is also working on some record production numbers for the Surface tablet and if the best news is to be believed, we are looking at 3-5 million Surface devices being produced in this fourth quarter! According to suppliers, only Amazon's Kindle Fire and Google's Nexus 7 managed such a feat based on their demand.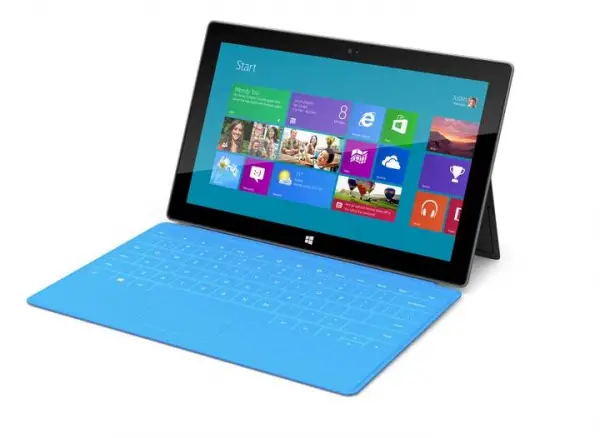 The Microsoft Surface tablet is 9.3 mm thick and weighs just 1.5 pounds, has a built-in kickstand and magnetic cover which also features as a touch keyboard. Surprisingly, the Microsoft online store page which hosted details of its pricing and pre-order options seems to have been taken down and is presently offline.
What do you think of the pricing? Planning to buy one?