Microsoft's Surface Tablets could soon debut in India as the company looks to gain leverage of selling devices with upcoming OS Windows 10. Not available in India yet, the company offers 2 models – Surface 3 and Surface Pro 3 with different hardware configurations to other parts of the World.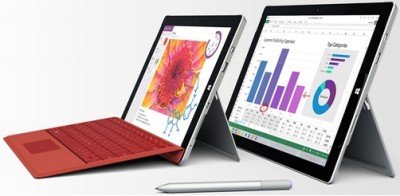 Incidentally, it was the highly price sensitive Indian market that stopped Microsoft to launch Surface devices in India. However, the company is now revisiting its strategy with feedbacks from users.
Vineet Durani, Director – Windows Business Group at Microsoft (India) quoted to the Times of India,
"We feel there's a market in India for all devices including high-end convertibles and the Surface is the perfect device to showcase Windows 10, which adapts to 2-in-1s easily with seamless switching between PC and tablet UIs.
Tough competition awaits Surface Tablets
Though Microsoft hasn't revealed any timeline so as to when Surface Tablets will hit the India, it looks to be a tough road ahead. Durani hasn't hinted on reducing the price levels in the Indian market, which gives enough indication that Surface Tablets will be placed at premium segments.
Going by what Surface Tablets are prized currently, 12" Surface Pro 3 with Intel Core i3 processor has a starting price of $799 which is 51,000 INR approximately. Relatively cheaper and lesser in configuration, the 10.8" Surface 3 with Intel Atom™ x7 processor has a starting price of $499 which is 32,000 INR approximately. Additionally, one has to add $130 or 8,240 INR to the above for buying the Type cover.
With above prices (unless Microsoft brings a drastic price reduction), Microsoft will face a high competition from the likes of Lenovo, Dell and Apple who already have established market in 2-in-1 category and high-end tablets. The lower end of the Tablet market is already flooded with players like Micromax, iBall and Notion Ink offering a variety with average specs.
With Surface Tablets knocking the doors, Indian users can brace themselves at more options to choose from. On the other hand, Microsoft will all be cautious and hoping that it gets its positioning right after what happened to Windows Phone