Surface tablets from Microsoft are ready to hit the store shelves of Thailand. Both, Microsoft Surface Pro and Microsoft Surface Pro RT are now available for purchase in Thailand. While Surface Pro is seen more as an enterprise tablet, Surface RT is aiming to target regular tablet customers.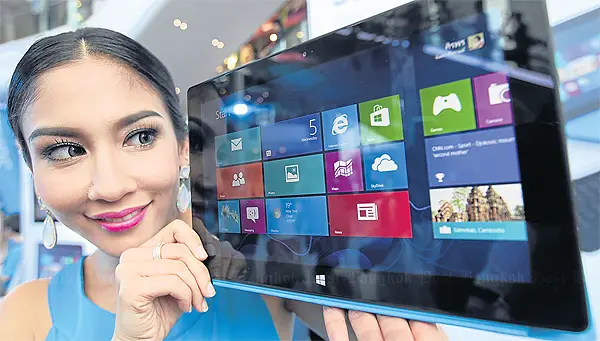 Microsoft Surface available for purchase in Thailand
Microsoft Surface RT's architecture is based on ARM platform while Surface Pro is like an ultrabook with touchscreen. The tablet can be connected to a 24 inch HD screen, full wireless keyboard and mouse and proper sound system. In other words, although you can use the device as a tablet it can be used more as a desktop PC.
It is this reason why Microsoft will be hoping that the full-fledged Surface Pro sees stronger sales with its expanded roll-out across Asia. Thailand has the biggest tablet market in Southeast Asia, followed by Indonesia. Microsoft has appointed SIS Distribution as an authorized distributor for its tablets. The Surface Pro would cost S$1,198 ($950) in Singapore reports Bangkok Post.
Haresh Khoobchandani, managing director of Microsoft (Thailand), said,
Bangkok Bank and Chiang Mai University already use Microsoft's tablets. The company has seen over 100 million downloads of its Windows 8 since its launch, he added.
Jarit Sidhu, an analyst for IDC Thailand, a leading research firm, said
Tablet sales in Thailand are expected to reach 3.5 million units this year, excluding the government's one-tablet-per-child project. Of the total, sales of Android-based tablets are expected to account for a 70% share, with Apple's iOS tablet taking the remaining 30%. To compete with other tablet players, Mr Sidhu said Microsoft needs to provide a variety of applications and content.