Microsoft, somewhere in March this year, had released a patch for PCs running it's Windows 7 OS. The patch was found to be incompatible with PCs featuring ASUS motherboards. This incompatibility caused the PCs to crash with a Secure Boot Violation error under certain circumstances. But then, the damage wasn't widespread, since it was only branded as 'optional' and therefore, only a handful of users bothered to install it.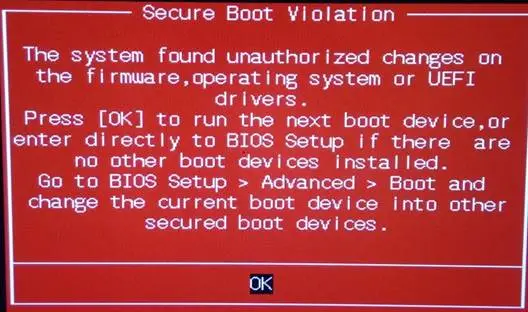 However, there was a change in the scheme of things when the software giant decided to change the status of the patch from 'Optional' to 'Recommended' so that anyone with Automatic Updates enabled would receive the patch. The result was that those who installed it ended up with a computer that refused to boot – specifically for the PCs with ASUS motherboards.
Why did this happen?
Secure Boot is a feature is a part of the firmware and Windows 10 and Windows 8 take advantage of this, whereas, Windows 7 does not. It is therefore supported in Windows 10/8, but it is not supported in Windows 7. Microsoft has clearly mentioned and documented this fact.
But to make its Windows 7 computers support Secure Boot, ASUS released a Driver/Firmware patch that ignored Microsoft's stated position and made their PCs support this feature.
Now after Microsoft released this new update, the Asus update conflicted with this Microsoft update and made their Windows 7 computers unbootable.
In short, ASUS enabled Secure Boot on Windows 7 computers, when Microsoft had clearly stated that this was unsupported. Then when some update from Microsoft broke this feature, users and media started blaming Microsoft.
To protect user's systems from malware attacks, ASUS motherboards implement the Microsoft Secure Boot feature by default. This feature performs a legal loader check to boot into the OS. As Windows 7 does not support Secure Boot with the update of KB3133977, the system might detect inconsistent OS loader keys, resulting in boot failure, said ASUS.
ASUS has now opened a support page where affected users can get help.
What's you take on the story? Who do you this is responsible for this mess? Microsoft or ASUS?