Considering the ever-increasing popularity of Microsoft Teams among organizations and educational spaces, Microsoft has introduced some more features to Teams' desktop and mobile apps. The latest version comes with a revamped calling interface and support for CarPlay, among other things. Voice-based calls have now become an essential aspect of the Teams interface, and users can find all sorts of call history on the same space.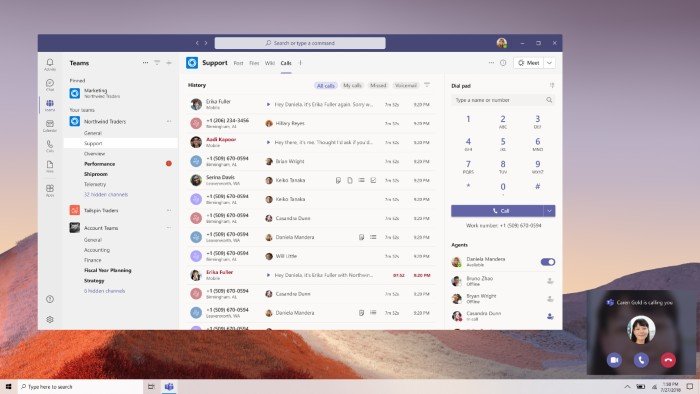 Microsoft Teams getting new features
Teams has included additional options like spam call protection as well as reverse number lookup. Features like these will help organizations and groups that deal with voice calls regularly. The developers also say that the ability to merge calls and transfer calls between mobile and desktop will be coming soon to the apps.
For instance, while a Teams meeting is going on, the user can transfer the same to another device and carry it on from there. Users will have to wait until early 2021 to get their hands on this feature. According to the screengrabs Microsoft has shared, the entire process of transferring calls works seamlessly. Another area that Microsoft has improved through this update is the recording option for meetings.
Users will have an option to record the meeting and share the video files with SharePoint and OneDrive. It should be better than having to rely only on the Stream service by Microsoft. As a part of this feature, Teams can now share calls and transcripts to Team members and others from the organization.
Last but not least, Microsoft has brought support for CarPlay as well. As you can guess, this feature can bring Teams to your vehicle if you have a CarPlay-enabled infotainment system and an iPhone where you have installed the Teams app. At this point, users can handle calls and use Siri to manage the different aspects of teams' activities.
As you can see, Microsoft is adding features that would make Teams an integral part of digital life instead of sticking to the work domain. The options to continue Team calls on mobile and then on CarPlay-enabled systems can make organization-level meetings more flexible than ever.