Microsoft is acquiring LinkedIn for $26.2 billion, $196 per LinkedIn share, to be specific. This will be an all-cash deal and won't be affecting the branding and independence of LinkedIn, says Microsoft. The sole aim of this deal is to accelerate LinkedIn's growth. The existing LinkedIn CEO Jeff Weiner will now be joining the senior leadership team of Microsoft and will report directly to CEO Satya Nadella. The deal has already been sanctioned by the board of directors of both companies and the acquisition will supposedly be closing sometime later this year.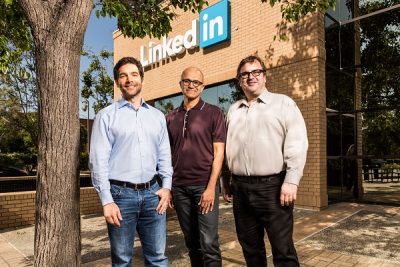 Microsoft to acquire LinkedIn
Announcing this latest acquisition, CEO Satya Nadella said, "Together we can accelerate the growth of LinkedIn, as well as Microsoft Office 365 and Dynamics as we seek to empower every person and organization on the planet."
While Satya Nadella has always been known for his focus on future IT trends, this is so far the biggest acquisition of Microsoft since he joined in as a CEO.
Sharing his visions for this deal, Nadella sent an email to his employees saying that LinkedIn is an asset to the company and will certainly expand their opportunity in the Total Addressable Market. He believes that LinkedIn aligns well with the Company's core business and both the companies are pursuing a common mission of empowering people and organizations.
Satya Nadella in his email says, "Along with the new growth in our Office 365 commercial and Dynamics businesses this deal is key to our bold ambition to reinvent productivity and business processes. Think about it: How people find jobs, build skills, sell, and market and get work done and ultimately find success requires a connected professional world. It requires a vibrant network that brings together a professional's information in LinkedIn's public network with the information in Office 365 and Dynamics. He further added, "we have a significant opportunity to accelerate LinkedIn's growth and the value it brings to its members with Microsoft's assets and scale".
Microsoft terms this deal as a combination of "World's leading professional network" and "World's Leading Professional Cloud".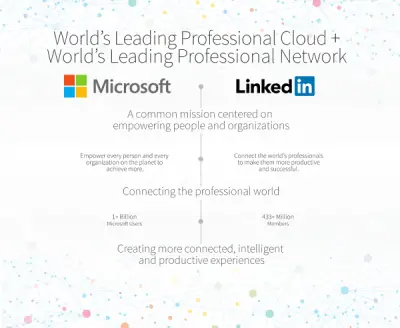 Microsoft is seeing this more as a partnership than an acquisition and both the dynamic teams are ready to work together with a goal of driving results and accelerating the growth.Head over to the
Head over to the Microsoft News Center to learn more about the acquisition.