Microsoft is taking all the measures to make the Windows ecosystem more robust and secure. Now, Microsoft has announced that it will not update or provide printer drivers from manufacturers or third-party printer drivers via Windows updates. This will take effect from 2025.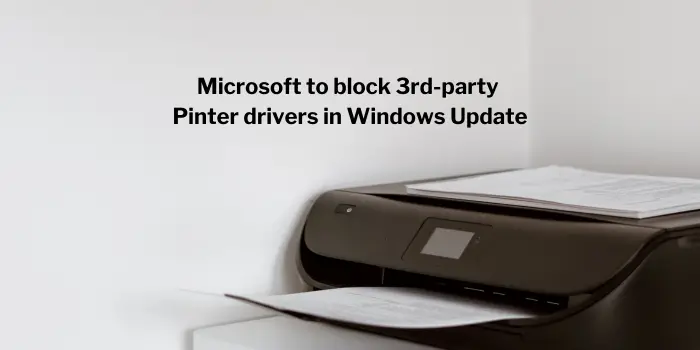 Microsoft to block 3rd-party Pinter drivers in Windows Update
Microsoft has mentioned in its note that:
With the release of Windows 10 21H2, Windows offers inbox support for Mopria compliant printer devices over network and USB interfaces via the Microsoft IPP Class Driver. This removes the need for print device manufacturers to provide their own installers, drivers, utilities, and so on.
This move is considered compliant with the Mopria agreement and eliminates the possibility of compromising systems with third-party drivers. Printer Support apps will be distributed and installed automatically via the Windows Store to provide Device experience customization. This will improve reliability and performance by moving customization from the Win32 framework to the UWP software development framework. Printer manufacturers no longer have to develop or rebuild their software since the new Microsoft IPP class driver is supported across all Windows versions and editions.
Microsoft has also announced they are ending the support for the legacy v3 and v4 Windows printer drivers. The end of servicing printer drivers will be carried out over multiple years—the Timeline, according to Microsoft, is as shown in the image below: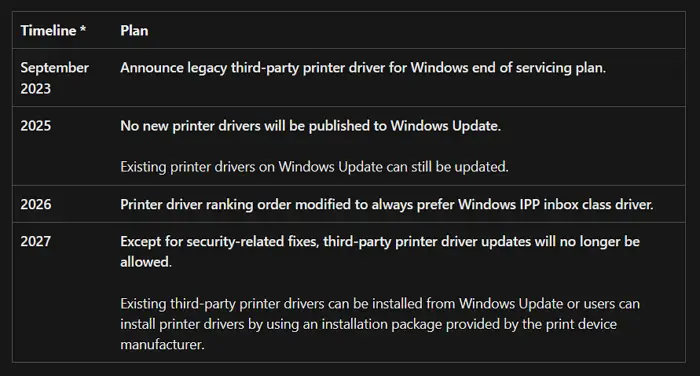 Even after ending the support to third-party printer drivers, Windows will continue to allow vendor-supplied printer drivers to be installed via separate installation packages. Microsoft will not disable the print features related to the legacy printer driver platform after ending the support for third-party printer drivers.