Skype's latest redesign last year didn't go well with many users and finally, the company decided to tone it down. This time around Microsoft has announced Skype with a ton of new features and improvements across all platforms including Desktop. Meanwhile, the latest version of Skype will be replacing the Skype Classic 7.0 which will cease to exist from September this year. Now let us take a closer look at what all the new Skype 8.0 app has to offer,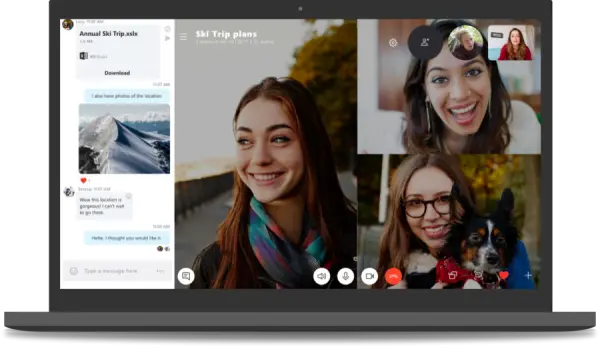 Skype 8.0 arrives with HD Video support, Call Recording & Encryption
Starting with, the new Version 8.0 offers HD video, support for mentions in chats, screen sharing in calls and a dedicated chat media gallery that offers to share for files of up to 300MB. The Skype team has also announced that certain features like the support for encrypted calls, texts, and inbuilt call recording will be added later.
The Skype 8.0 version mostly focusses on the UI elements. The update comes laden with fresh visual elements and other features like the color coding in chat messages and the support for reaction emojis. It is quite likely that the revamped Chat media gallery and the file sharing support might have already been rolled out to your Skype Desktop.
The HD video call support now extends to 24 people and supports the "@mention." Skype will be getting support for profile invites, read receipts for messages, call recording and group links for chats and calls in the next update that is expected to arrive by the fall.
Messaging services like Skype and Yahoo Messenger rose to popularity in the late 90's. However, Skype stuck to its legacy design and desktop first ideology for a little too long. Meanwhile, the world was bombarded with the likes of Slack, Trello and other collaborative tools that offered a much more intuitive user experience as compared with Skype. Instant Messaging services like WhatsApp piggybacked on the smartphone wave and have now attained the ubiquitous status. Skype is playing catchup and is shaping up its services to suit the market requirements.