Microsoft has announced that it is going to provide a passwordless experience for industries and organizations. The computers in organizations running on Windows 11 version 22H2 are eligible to enable the passwordless experience after installing the latest September 2023 Update.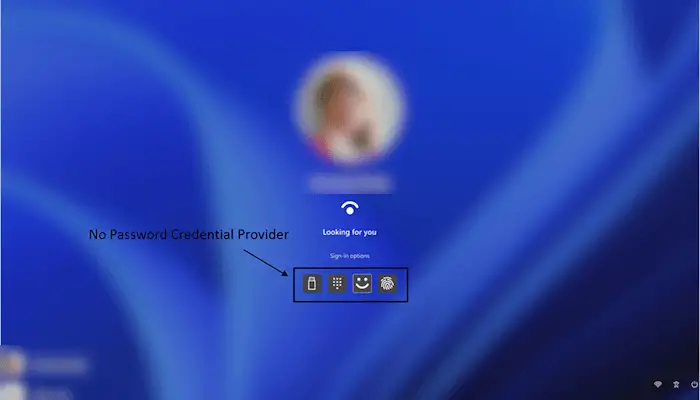 Microsoft to remove Password option for Sign-in in Windows 11
Passwords are insecure and also an inconvenient method to sign in. If you set a password on your system, you have to enter it every time you see the lock screen. On the other hand, other sign-in options are more convenient ways to log in to Windows 11 than the password.
Windows Hello for Business is a passwordless experience for users. It offers a more secure way to sign in to Windows computers because its credentials are Phish-resistant. In addition to Windows Hello for Business, the FIDO2 security key is also a secure method to sign in.
Passwords are inherently insecure, inconvenient, and a prime target for attacks. In 2022, Microsoft tracked 1,287 password attacks every second. In the last 12 months, we saw an average of more than 4,000 password attacks per second. — says Microsoft.
Organizations have to set the EnablePasswordlessExperience MDM policy from Intune or another MDM to enable a fully passwordless user experience on Microsoft Entra ID joined machines. Normal users can use the Registry Editor to enable or disable Passwordless sign-in in Windows 11.
How to enable Windows Passwordless experience with Intune
To configure the devices for a Passwordless experience using Microsoft Intune, first, create a Settings catalog policy and then configure the following settings.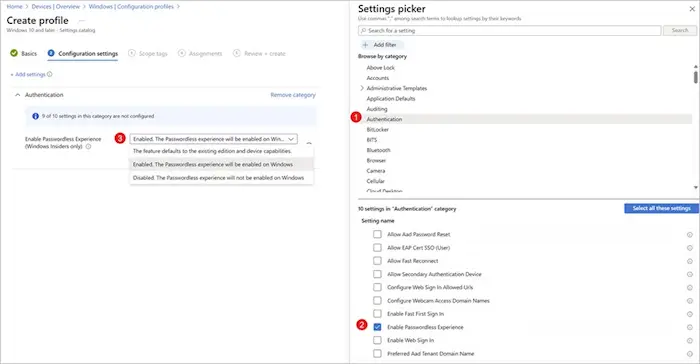 Select Authentication in the category.
Select the Enable Passwordless Experience checkbox in Settings.
Set the value to Enabled in the Enable Passwordless Experience drop-down.
After setting the policy, the password will be removed from the user experience for both device sign-in and in-session auth scenarios. Hence, once the Passwordless experience enabled devices, users have to use other sign-in options for authentication like Windows Hello for Business in place of a password.
If the login attempt fails, users can use PIN reset or Web sign-in to recover their credentials without IT helpdesk engagement.
You can read the complete information about this update on the official website of Microsoft.