Each update of Windows brings new features and functionalities along with the fixes to bugs. It is also possible that Microsoft removes some features with newer versions. This time, Microsoft is removing WordPad from Windows 11 with its new update.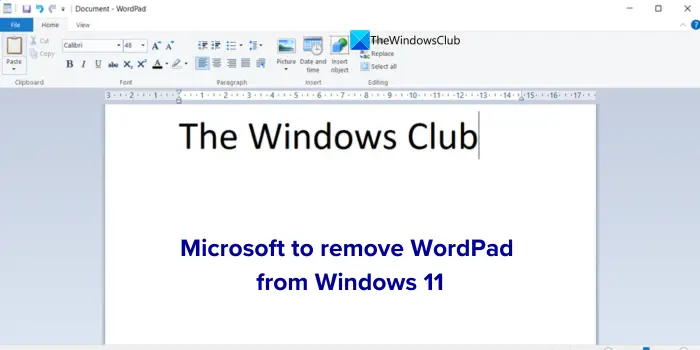 Microsoft to remove WordPad from Windows 11
WordPad is a basic word processor program that comes by default on Windows. starting from Windows 95. It also comes packaged on Windows 11. WordPad works like something between Windows Notepad and Microsoft Word. You can do basic word processing like creating simple documents, as it lacks features like Microsoft Word.
Microsoft on September 1, 2023, announced that they are depreciating WordPad from future releases of Windows. They will no longer update the existing version of WordPad and will be removed from Windows 11 with a new version. Microsoft recommends users who depend on WordPad for word processing to use Microsoft Word.
To open documents in .doc and .rtf formats, users should use Microsoft Word after removing WordPad. Likewise, to open plain text documents like .txt, users should use Windows Notepad.
You might still use the WordPad without updating Windows 11, but that does not guarantee the proper functioning of your Windows as it may have bugs and security issues that are fixed with each update and version. You might even miss new features and functionalities that Microsoft adds with newer versions.
If you depend on WordPad, you must get ready to replace the usage with Microsoft 365, or some other third-party program that does the same work as WordPad.