Microsoft has toppled its internet rival Google from the prized top spot in a survey of the UK's strongest 500 business brands published today.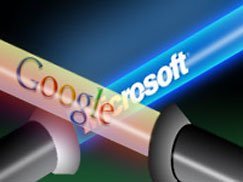 Google, which held the top position in 2008 and 2009, slips to fifth place while Microsoft enjoys the number one slot after coming second in the annual Business Superbrand top 500 survey in 2007 and 2008, and fifth last year.
The survey is compiled for the Superbrands organisation by the Centre for Brand Analysis, which creates league tables based on the opinions of marketing experts, business professionals and thousands of British consumers.
Stephen Cheliotis, chairman of the Centre for Brand Analysis, said Google and Microsoft had been battling it out for four years.
"Google has started to lose some momentum with its market dominance becoming more and more evident whilst it has increasingly been criticised in the media for, among other things, its privacy policies," said Cheliotis. "Both brands remain powerful forces but Microsoft must be delighted to finally beat its younger upstart."